Closed end fund (CEF) Carlyle Credit Income Fund (CCIF) has priced their new issue of term preferred stock.
The pricing is 8.75%–a tasty coupon, for 1.2 million shares with another 180,000 for over allotments. The issue has a mandatory redemption on 10/31/2028.
Contrary to an initial press release the issue is rated BBB+ from Egan Jones (versus an initial indication of BBB-).
The fund is a CLO owner, and in many ways is similar to Eagle Point Credit (ECC) and Oxford Lane Credit (OXLC)–but much smaller with assets of less than $100 million.
The permanent ticker for the new issue will be CCIA.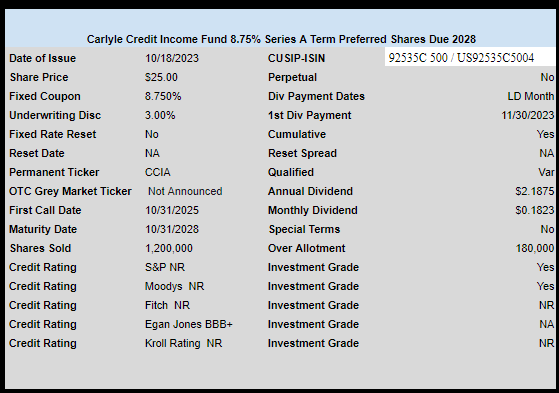 The pricing term sheet is here.