Corrected—I had the 1st call date wrong and now have corrected it. Also 2whiteroses mentioned this issue on 12/17/2020 which I missed–Bob in Thailand mentioned it last night which I saw–credit where credit is due.
Alta Equipment Group (ALTG) has sold a new cumulative preferred issue with a high yield coupon of 10%.
Please note that this one flew under the radar until Bob in Thailand noted it yesterday–actual issuance was on 12/18/2020. I can find no trading on the issue yet (although maybe you can).
They have sold 1.192 million $25 shares with an over allotment available of 10,000 shares.
The company sells construction equipment (primarily) and had revenue of near $600 million through the 1st 9 months of the year with a loss of around $20 million during this time.
I an not familiar with this company and I would encourage all to do some deep due diligence before any purchase.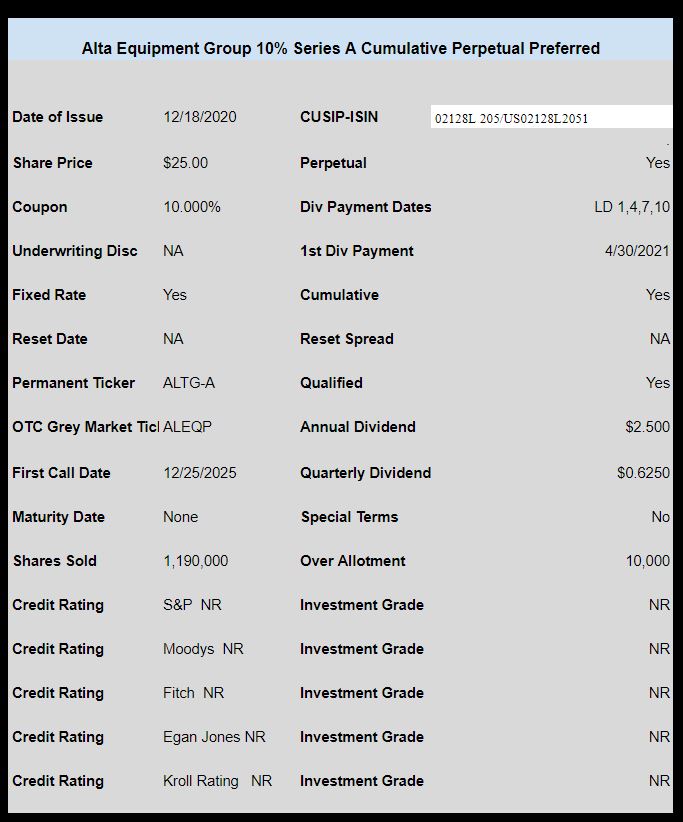 The pricing term sheet is here.
The final prospectus can be read here.