Always on the search for more dividend income in these times of low coupons I have been looking at the newer Eagle Point Credit 6.50% term preferred (ECCC) which was issued on 6/10/2021.
This is a monthly payor and has kind of a strange price pattern as compared to most preferreds–in particular term preferreds. As you can see below only 15-20 days after issuance the share price touched $27/share–crazy, but not unusual in the current 'food fight' for yield. The shares price now is in the $25.25 area. Being a monthly paying preferred there is not much movement on ex-dividend dates so it seems folks just got carried away to the upside in the initial couple of weeks and now are exiting.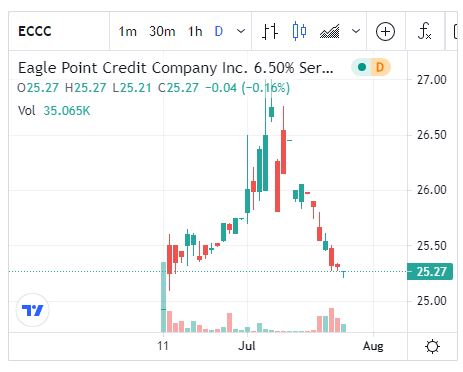 While I don't particularly like Eagle Point Credit because of their devotion to CLO's I do love monthly payors in particular when they have sold off and present a potential good buying opportunity.
ECC has a number of other issues outstanding which may present decent opportunities (which can be seen here), but it would seem to me of all the issues they have outstanding (some term preferreds–some baby bonds) this issue presents 1 or 2% of upside potential–with a reasonable coupon.
Lots of moving parts in these ECC issues–yield to call, some close 1st call dates, some issues with longer maturities to redemption than I traditionally like –some are baby bonds (superior in the capital stack) and some term preferreds.
I am not recommending these–I bought some earlier today–just sharing a few thoughts.