All too often I forget that so many of the visitors to the website are new to investing in baby bonds and preferred stocks. Many of us have favorite sectors that we like to invest in–maybe banks, REITs, utilities, business development companies (BDC's) or maybe it is in the closed end fund (CEF) arena.
Myself I pretty much go wherever I can attain my modest 6-7% goal of total return. I can and do invest in almost every sector, although it has been a long time since I have owned any of the shippers.
But now I want to review in a relatively brief way the Specialty Finance companies—which are closed end funds that hold primarily Level 3 assets. Most of you you know that Level 3 assets are defined as 'value cannot be determined by readily observable inputs or measurements'. There is no marketplace where these assets are traded so value is estimated. I like to call these 'trust me' values—'trust me' because the company is telling you what their assets are worth based upon estimates and models–you have to simply trust them.
The company's that I am talking about here are primarily the owners of CLO's (collateralized loan obligations). CLO's are Level 3 assets. Holding only Level 3 assets means that there is a higher level of risk to the investor. If a closed end fund holds only Level 1 assets (i.e. stocks) we can look at a firm number everyday and know what their assets are worth–this is why the preferred stock and baby bonds of issuers like Gabelli are investment grade rated.
In particular Eagle Point Credit Company (ECC), Eagle Point Income Company (EIC), Oxford Lane Capital (OXLC), Priority Income Fund (not publicly traded), OFS Credit Company (OCCI) and to a lesser degree XAI Octagon Floating Rate and Alternative Income Term Trust (XFLT) are what I call the Specialty Finance companies.
DISCLOSURE–I hold preferreds and baby bonds from ALL of the above company's–excepting Eagle Point Income which currently has no baby bonds or preferreds outstanding.
Here is what I look for in investing in these specialty finance CEF's.
Leverage–these companies all use leverage–they sell preferred stocks or baby bonds to raise more money which they then invest in more CLO's–obviously they intend to make a return in excess of their cost of capital. These companies must have asset coverage ratios of 300% for debt and 200% for preferred stocks–these are minimums. For example here is a 'snip' from a prospectus for a issue of Eagle Point Credit Company baby bonds.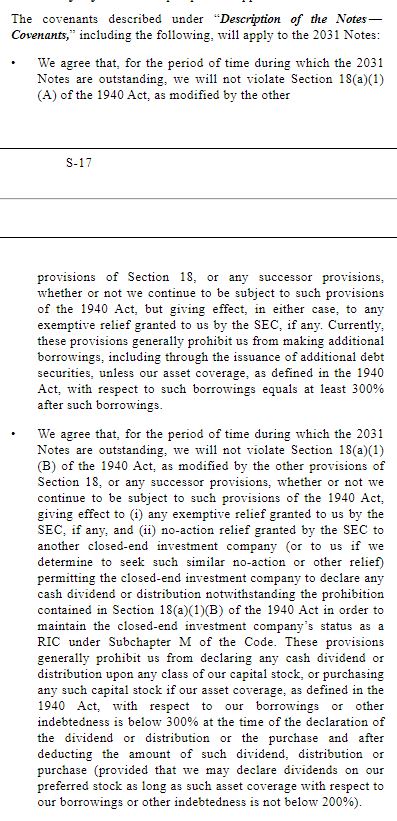 You can see that it spells out that the asset coverage must be at least 300%. If the asset coverage falls below this level they may not pay common stock dividends. These companies exist to pay high dividends so you can be certain they take this very seriously. Note that the preferred stock dividends can still be paid as long as the asset coverage ratio is above 200%.
Why is this important to me? I want maximum coverage–I want to sleep at night–I don't want to hold the common stock–I want the 'senior securities' (preferreds or baby bonds) that have a claim on the assets before the common holders. Of course the baby bonds have 1st claim with the preferred holders 2nd–and then the lowly common holders. Let the common shareholders take the mega risk.
The leverage level is important to me because I don't always trust management to have their Level 3 assets valued correctly–but if there are $3 or $4 of assets for every $1 of senior securities (preferred or baby bonds) there is an implied level of safety in liquidation.
Ability to Raise Capital–I want the company to have the ability to continually sell common shares. These company's burn through a lot of cash–normally paying huge dividends to common holders. They also have substantial bad loans–CLO's are packages of lowly rated loans which pay high interest rates and with high rates high risk is implied. I want the total assets of the company to grow–I don't care so much about the net asset value/share–I just want the total asset base to grow based on fund raising by selling common stock–this keeps the leverage ratio up. If the NAV/share falls that is the common shareholders problem–not mine–the NAV can fall while at the same time the coverage ratio can increase.
An Example
From my observation Oxford Lane Capital Corporation (OXCL) is extremely good at raising funds. For the quarter ending 6/30/2021 they sold 7.6 million common shares with net proceeds of $53.8 million. The company now has 108 million common shares outstanding. I looked back to 4 years ago—9/30/2017 and the company had 25 million shares outstanding at that time. They are really good at selling common shares–every quarter.
Here is a chart of the Oxford Lane Capital Corporation common shares going back 10 years.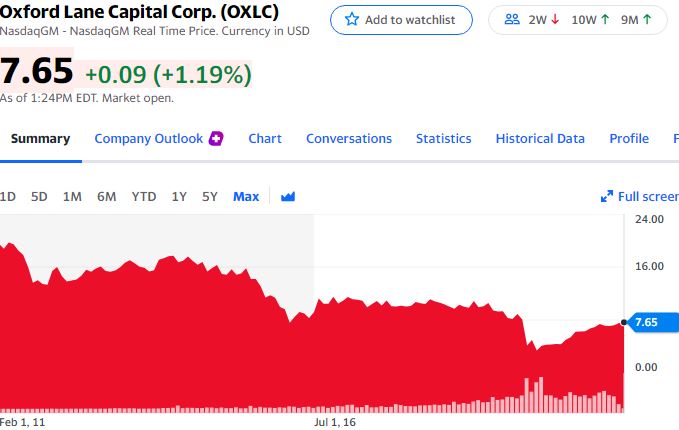 This charts shows 2 things–1st that the share price has fallen by around $15/share in the 10 year period and 2ndly that the trading volume goes up and up–as they raise more capital by selling common shares trading volume follows. Do I care that the share price is falling? Not so much, although if it went up it would be better for the common shareholders as a senior security holder I care about the asset coverage ratio which currently stands at around 237% (last time I calculated it). Now it needs to be understood that OXLC pays a dividend to common holders of around 10% so the total return on the common is not as bad as it looks on the chart and in order to remain qualified as a Registered Investment Company (RIC) they must pay out at least 90% of their investment company taxable income each year.
Notice that nowhere above did I mention reviewing the financials (i.e. income statement and balance sheet) of the company. The asset coverage ratio pretty much outlines how the company is doing, but just the same you need to minimally review the updates each company publishes. Here is a link to the most recent Oxford Lane update on 7/30/2021. To try to go into the income statement and balance sheet of these companies is pretty fruitless for most folks–but certainly if one has the accounting abilities these financial statements should be scrutinized.
I would not own the common shares of any of these company's–honestly even with a 10% dividend the total return is pretty poor.
Would I own these preferreds and baby bonds if we were heading toward a steep recession or depression? Because of the marginal quality of the underlying companies I would avoid these if I though we were heading toward poor economic times, but the government seeming to bailout everyone the risk has been minimized recently.
Would I recommend anyone in particular buy the preferred stocks and/or baby bonds of the Specialty Finance company's? NO because I never recommend anything to anyone because I have no knowledge of the 'suitability' of any given investment for anyone.