Wells Fargo & Company has announced the pricing for the previously announced preferred stock issue.
The issue priced at 4.375% for a split investment grade issue (Baa2 (IG) from Moodys and BB+ from Standard and Poors).
As is typical from the big banks the issue is giant sized with 40 million being sold with an over allotment of 6 million shares available.
The shares trade immediately under temporary OTC ticker of FRGOL. Shares will trade under permanent ticker of WFC-C in a week to 10 days (most likely).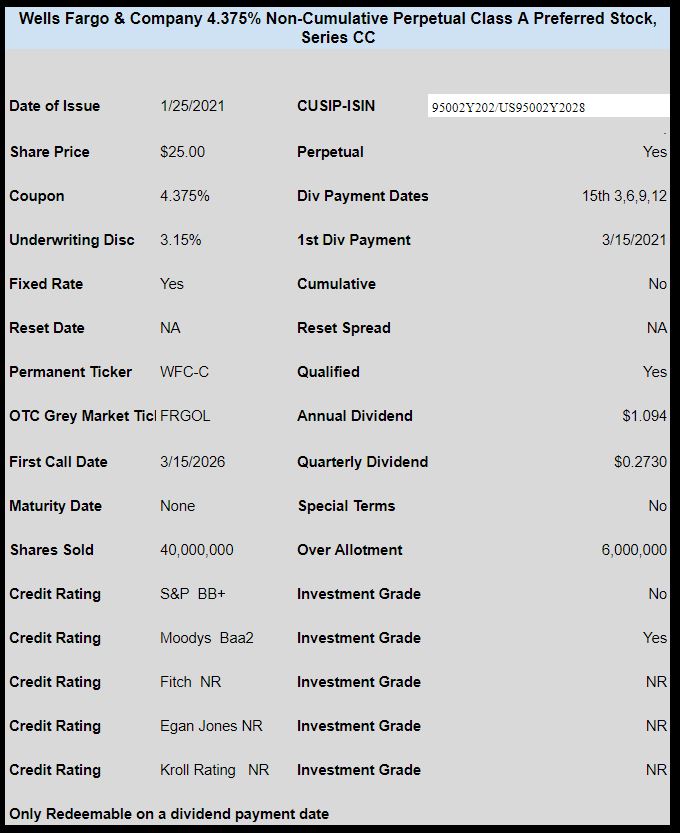 The pricing term sheet can be found here.
Last week WFC sold a $3.5 billion issue of 3.90% Fixed Rate Reset $1,000 preferred with the same 'use of proceeds' language as the new issue–'may be used to call preferred shares'. In combination with todays $1 billion share sale they have $4.5 billion in new money to call shares – no doubt some issues will be called.
It is likely they will call the 5.70% WFC-W issue, the 5.25% WFC-P issue and the 5.20% WFC-N issue on 3/15/2021 (a dividend payment date), the W issue is callable on 3/15/2021 and the other 2 are currently redeemable. All of these are trading around $25.40 so there is little call risk.