Last week the S&P500 moved in a range of 3887 to 4077 – a range of 190 points, almost a 5% spread. The index closed at 4067 which was a gain of 3.6% on the week.
The 10 year treasury moved in a range of 3.21% to 3.35% and closed the week at 3.32% which was 13 basis points higher than the prior week. A little continued stability this week would go a long way.
The Federal Reserve Balance sheet fell by $4 billion. We now have full blown QT (quantitative tightening) in effect at the rate of $95 billion per month so we will watch this 'experiment' closely.
The average $25/share preferred stock and baby bond fell by 7 cents last. Investment grade issues fell by 8 cents, bankers rose 2 cents, CEF issues fell 4 cents and mREIT issues moved 9 cents higher. All in all a relatively stable week as interest rates moved 13 basis points higher.
Some other sectors (not charted) moved as follows. Insurance moved 4 cents lower, BDC baby bonds moved 1 penny lower and eREITs moved 12 cents lower.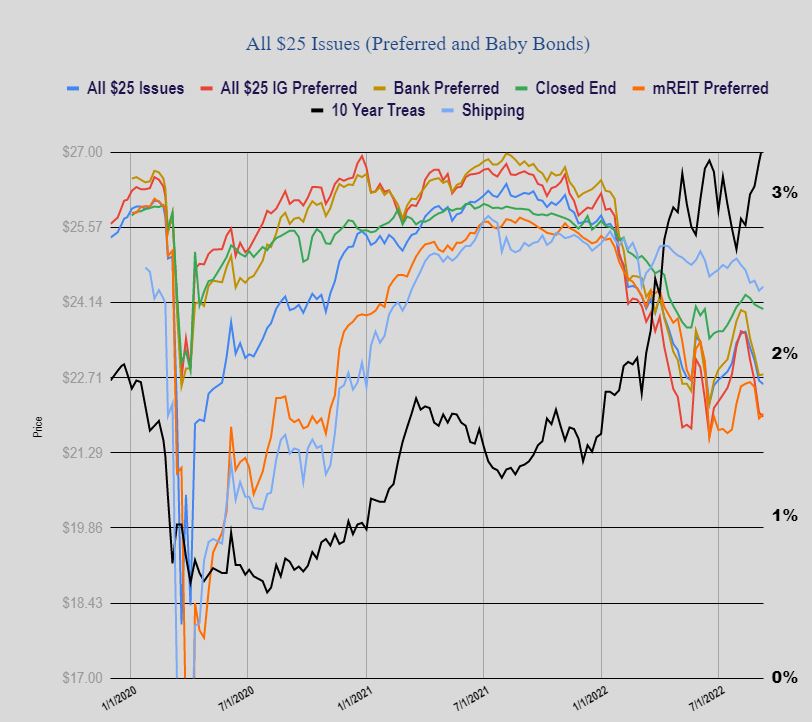 Last week mREIT AGNC Investment (AGNC) sold a new fixed rate reset preferred issue with an initial coupon of 7.75%. This issue is trading on the OTC grey market and investors thus far have strongly disagreed with the pricing as the shares are now trading at $23.50.