Well we had a long weekend to rest up so once again we are ready for a wild and crazy week–you know that markets will gyrate plenty–there is too much uncertainty in the world. Where are rates going? Where are energy prices going as we export our natural gas to Europe with the Nord Stream 1 pipeline cut off by Russia to Europe. Has inflation peaked? What will full blown quantitative tightening do to markets? It's going to be a very expensive winter around the globe.
The S&P500 fell by a strong 3.3% last week, although futures early this morning (5 a.m.) are showing a stronger opening today–will it hold?
The 10 year treasury yield jumped by 16 basis points on the week to close at 3.19%, although it had been as high as 3.30% earlier in the week.
The Federal reserve balance sheet fell by $25 billion–and this month (September) the Fed will step up quantitative tightening as they will target reducing the balance sheet by $95 billion/month. In particular what will the lack of a back up demand marketplace do to mortgage rates?
Last week preferred stocks and baby bonds got 'hammered' as the average $25/share issue fell by a strong 55 cents. Investment grade issues fell by the 61 cents. Banking issues fell by 43 cents, CEF preferreds off just 6 cents. BDC baby bonds were off just 22 cents
The average $25/share price is now just 44 cents above the low for the year which occurred on the week ending 6/17/2022 at $22.22/share.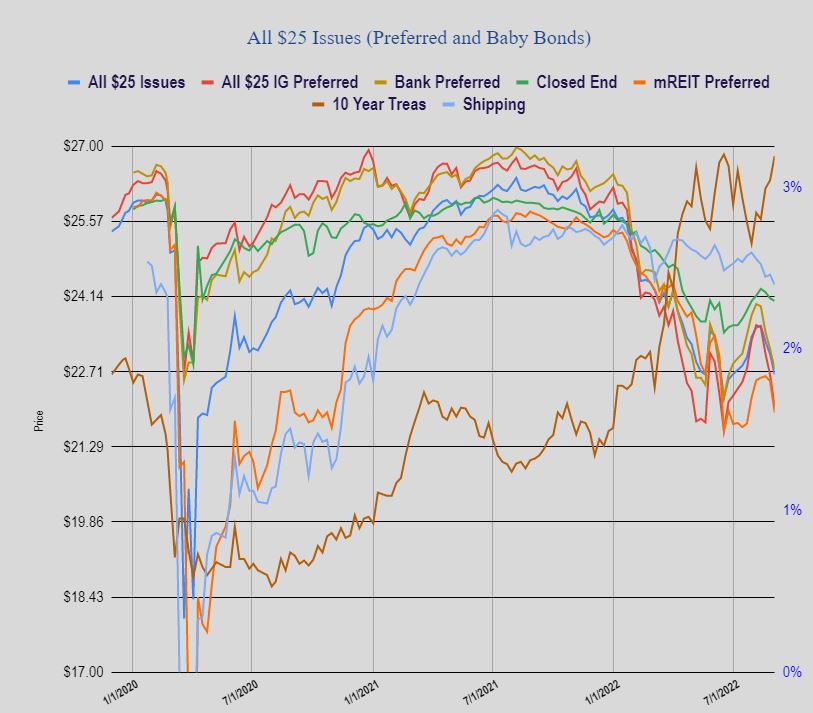 Last week we had no new issues priced.