Every one is awaiting the release of the personal consumption expenditure (PCE) report–markets must be anticipating good news as the S&P500 is up 1/4% and the 10 year treasury is trading at 4.09%.
Of course we have the weekly initial jobless claims which has become more and more important as we track employment, which I believe is 1 of a handful of 'most important' indicators for the FED and the FOMC committee in interest rate decisions.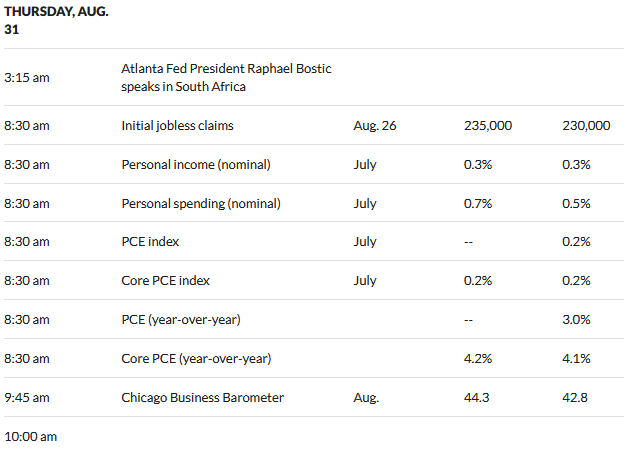 Personally I have had 3 good til cancelled buy orders execute in the last week–plus I have purchased a 5.6% 1 year CD (which of course is callable). None of the baby bond purchases were of any magnitude – actually they were all in the same security at lower and lower prices. I intend to get a 'blurb' out today or tomorrow outlining those small purchases and the logic behind them.
I continue to have multiple good til cancelled buy orders out there, but they will need the help of 'nervous nellies' selling to me at what I consider a bargain price. I have not sold anything recently but once again am considering lightening up on a few small bankers now that they have popped up from the recently sell-off–I have couple with 10% gains (capital gains plus 1 or 2 dividends) and may sell part of those positions–we'll see.