The Uhaul Investors Club has been raising their rates for the last number of months–but they are always behind. Some of us in the club have been dragging our feet on reinvestment of cash in our accounts–at least I know I have been waiting for a better interest rate.
It is kind of funny that one can get almost 4% in a 2 year Tbill, but Uhaul is only paying 3.70% (the new rate), but they have no problem at all selling everything they offer.
The new rates are here–these are 20 to 30 basis points above the previous rate and should hit their website in the next week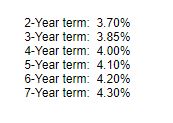 For a number of years when interest rates were near zero my wife and I dedicated 'new' money to Uhaul–but have not funded this is a while, but our original money remains in the accounts. In the name of diversification I will kept the money there for now.