UPDATE–I added a chart to the bottom of the screen.
The 10 year treasury has toyed with the 1% level today, before bouncing a little (a basis point or so).
The 'talking heads' breathlessly say 'while waiting for the Fed policy decision from there current meeting'–I mean really?? If there is someone who believes the Fed will announce a slow down in QE at this juncture would you please raise your hand. Powell (and now with treasury secretary Yellen) is so dovish they he is growing feathers.
Equity markets continue to trade softly, even with stellar earnings releases from many bell weathers such as Microsoft. Market manipulation (legal or otherwise) has been obvious all week long–the Gamestop (GME) game has reached the new height of silliness–a 52 week range of $2.57 to almost $400–at this moment up $218/share to $366. Tanger (SKT) has benefited greatly from a short squeeze as well. Then there is movie theater operator AMC. Oh well–this to shall end.
Lately I have been studying the low coupon issues that have been being issued lately–to refresh my memory where they could trade if interest rates move higher. I looked at a bunch of issues–but I always come back to my personal favorite super high quality Tricontinental 5% perpetual (TY-P or TY-) issued in 1963.
This monthly chart shows that these shares have traded in a range of $18 to $59 since 1973 (as far back as my chart goes)–almost all of this interest rate driven. While many of us think we can forecast interest rates–we can't. We can make guesses. This is just to remind folks that unless you are an 'immediate income' investor (most interested in current income flow without so much attention to share price) you can be bludgeoned into oblivion with these low coupon issues. Disclosure–I have recently sold all of this issue I owned.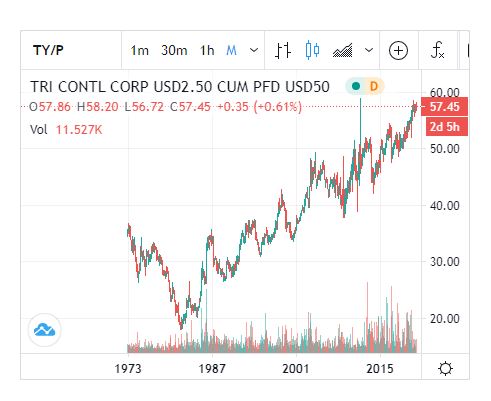 This giant sized chart shows the 10 year treasury yield compared to the TriContinental 5% prepetual. The blue is the 10 year treasury while the orange is the TY-P issue. Interest rates peaked in the early 1980's and have been in a downward trend since that time.