Once again interest rates are very quiet – in the last 7 days rates (the 10 year treasury) have traded between 3.42% and 3.55% with closing yields of 3.46% and 3.55%. This morning the 10 yield is at 3.52% right now. I think we are due to break this range soon–what will shove rates higher or lower is anyone's guess.
Well finally after many days in the green (I lost count–maybe 13-14 days in a row) my accounts were all red yesterday, although just by a tiny amount. Today I hope to be green–if for no other reason than the number of dividends and interest payments hitting the accounts. I did do some more trimming yesterday–no buying just more trimming around the edges. I trimmed back the Oxford Lane Capital (OXLC) term preferreds – the specialty finance company's make me nervous. While technically their coverage ratios (must maintain 200% asset coverage ratios) remain flattish because of the number of new shares they issue their portfolio markdowns are large and if their is a recession coming where are their markdowns going then? I remain a holder but at a reduced rate.
I noticed yesterday that the personal savings rate continues at a very low level–in fact as I read the chart the rate is the lowest since 2008. Consumers are using credit cards at an increasing rate while saving less–all in all not a great indicator for the economy ahead. I know my personal savings rate is WAY down – earned income down 30% in 2022 and for January, 2023 down a whopping 64%–that's January in Minnesota for a property appraiser–no worries though as my social security and General Mills pension cover expenses easily.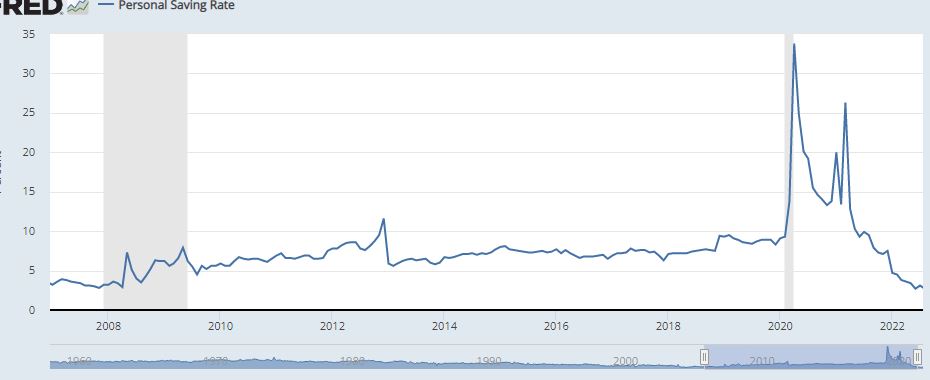 So today we have the start of the FOMC meeting–ending tomorrow with an interest rate increase announcement at 1 p.m. (central ), but there will be additional important news –in particular ADP employment tomorrow and the 'official' government employment report on Friday. I think before the week is out we will need to have our seat belts firmly fastened.