The rate hike/no hike announcement yesterday was exactly as I expected – no hike, but tough talk on the future. Anyone who expected anything but what we got simply hasn't been paying attention. Inflation, while much tamer than a year ago ticked higher last month–and may well be high again this month. GDP is forecast to be in growth mode for the year and employment remains relatively strong.
The 10 year treasury was steady after the no hike announcement–BUT this morning after time to reflect on the announcement further is interest rates are on the move higher–now at 4.46%, up 10 basis points from yesterdays close. Remember that as income investors interest rate movements higher don't necessarily hurt us immediately–it is more the speed of the move than the direction. I like to see moves of 2-5 basis points–10 is too fast–I hope it backs off a bit during the day or we will have some pain in preferreds and baby bonds.
This morning we get the 1st time jobless claims–forecast at 225,000–we need to see this number rise–Jay Powell needs to see the employment numbers rise. Additionally we need to have the leading economic indicator remain soft–I haven't looked over the construction of this indicator–maybe it is a meaningless stat at this point in time. The number has shown contraction for 16 consecutive months–seems out of step with reality.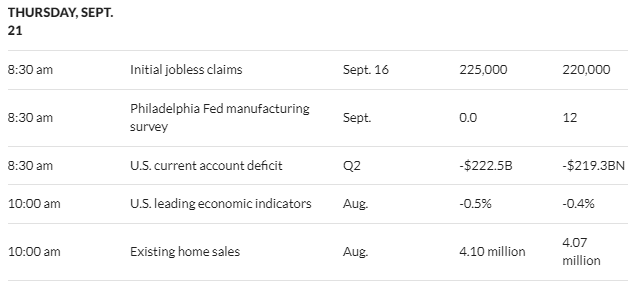 Carecloud (CCLD) released a operations update yesterday in response to the shellacking their preferred shares took on Tuesday. The preferreds bounced back nicely but only a fraction of the fall they took on Tuesday. Not something I would ever be involved in – I am way too conservative for involvement.
Yesterday I bought 4 shares (yes 4) of the RiverNorth Doubleline perpetual preferred (OPP-B)–this came from a good til cancelled buy order. I though I had my gtc order set at a lower level–obviously not, I will move it 25 cents lower today as I want better bargains than the one I got on 4 shares yesterday.
This morning I see JPMorgan has a 5.70% 1 year callable CD available (on Fido)–with interest rates popping we may have very tempting CD's and treasuries out there–is 6% in out future?