I recapped my buy of the new Capital Southwest Corporation (CSWC) last week–now for my 2nd buy in this sector (BDCs).
I am buying a 1/2 position of the newer Saratoga Investment (SAR) 8.50% senior notes (SAZ). 5 years to maturity, although 2 years to 1st optional call so one doesn't want to pay too much above $25 for the issue in case we see sharp rate drops next year.
SAR is very similar to CSWC in many ways. They have assets under management of around $1 billion–so a decent sized business development company. Like CSWC they have maintained a relatively flat net asset value/share – always a good sign that they can maintain their NAV.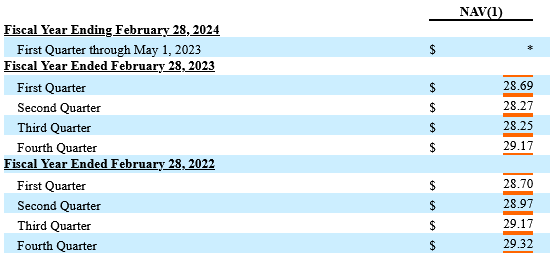 Also like CSWC the company invests primarily in 1st lien debt, although they do have 10% equity interests.

The company self grades their portfolio in colors green, yellow and red–obviously the red is the poorly performing issues of which the company claims to have none.

SAR has been around since 2007–while not as old as CSWC 16 years is 'middle aged' for a BDC and certainly they have seen the ups and downs in economic conditions in the U.S. In fact the company had issues in 2008 with a default on some debt–since then they have been straightened around and have performed very well in the last 10 years.
The 10-K (annual report) for the period ending 2/28/2023 can be found here.
Their latest presentation can be found here.
So this gives me 2 buys in the 8% area of what I believe to be 2 of the higher quality business development companies
I expect no capital gains of these issues–just a steady nice interest payment stream.