Well this is a week with a big economic release so we will probably have more large swings in the equity indexes. Of course if we didn't see big swings I would be pleasantly pleased. Friday we have the 'official' employment report–it is expected 270,000 new jobs will have been created in June which is much softer than the previous month in which 390,000 jobs were created–this will help to confirm a softening (or not) of the economy. The unemployment rate is forecast to be 3.6% which is flat month to month.
Last week we saw the S&P500 move lower by 1.9%–partially reversing the out sized 6.5% gain from the previous week.
The 10 year treasury yield fell sharply on the week–closing the week at 2.89% which is 23 basis points lower than the week before–recession bells seem to be ringing according to the bond market. Of course we all know that rates can reverse instantly and in 8 days we have the consumer price index (CPI) being released and you can plan on that number being market moving.
Federal reserve balance sheet numbers were not released last week on the normal schedule–guess the Fed was doing an extra long weekend.
The average $25/share preferred stock and baby bond moved only mildly higher last week as the recessionary concerns seemed to continue to counter the sizable fall in interest rates. The average share was up a measly 10 cents. Investment grade preferred's moved higher by 12 cents, banking preferred's by 22 cents while mREITs moved 26 cents lower. CEF preferred were 4 cents higher ocean shippers were up 6 cents.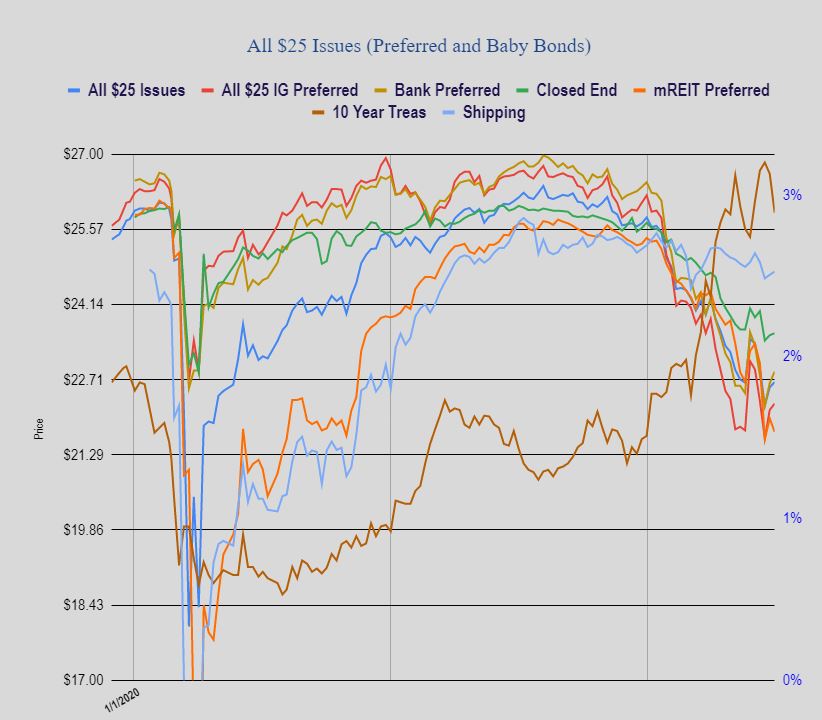 We had no new income issues priced last week