The S&P500 was generally quiet last week closing at 4138–which was a .8% gain–better than a poke in the eye with a sharp stick. The range for the week was 4072-4163–around a 2% range.
We have seen the earnings from regional bank M&T Bank (MTB) and the revenue and earnings both beat forecast–State Street Bank is yet to report today and most of the regional/community bankers will be reporting this week or next–I will be watching closely.
The 10 year treasury was a bit more active than equities moving in a 3.34% to 3.54% range and closing at 3.52% on Friday–this is 23 basis points higher than the previous Friday close.
This week the economic news is of the more minor variety although we have some Fed yakkers and they can cause trouble–although they have been uniformly hawkish lately so I think investors are getting used to their rhetoric.
Last week the Fed Balance Sheet fell by $17 billion as the stress comes off of the banking system. The balance sheet is $225 billion (more or less) higher than it was just prior to the banking crisis back in early March.
Last week the average $25/share preferred stock and baby bond  moved higher by 23  cents with investment grade moving 21 cents higher.  Banks moved 40 cents higher, CEF preferreds were up 17 cents. mREITs were off 22 cents and shippers down 16 cents.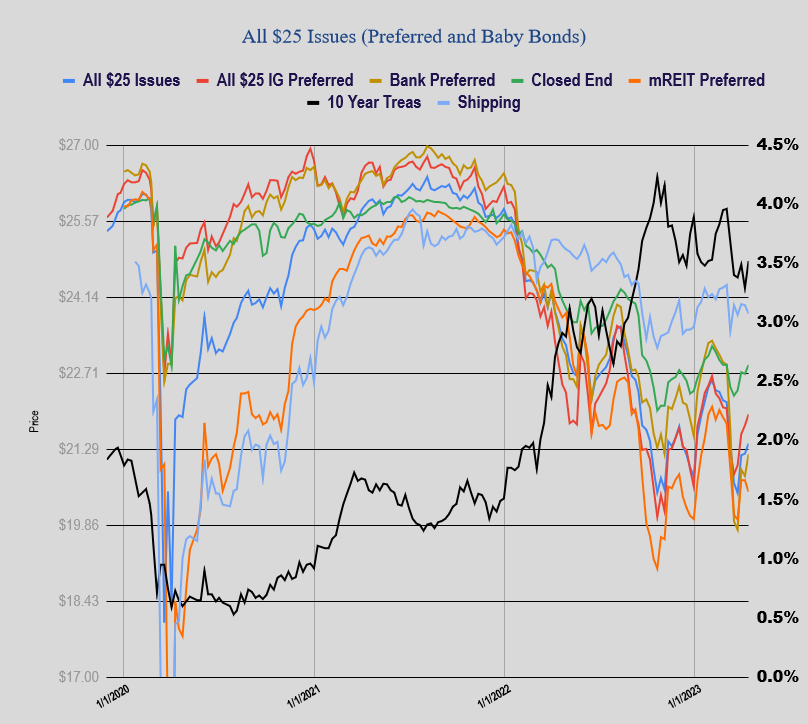 .We had 1 new income issue priced last week with BDC Saratoga Investment (SAR) pricing a new baby bond with a fixed rate coupon of 8.50%.  The new issue will trade under ticker SAZ–I don't see it trading yet.