Another exciting week is upon us–we have CPI (consumer price index) numbers ahead of us on Thursday at 8:30 a.m. (central). I see expectations of 7.9% versus 8.2% year over year–so obviously we have room for a surprise in this number. This may be the lone piece of economic data that will send markets into either a tailspin or for a ride on a rocket ship
The S&P500 dropped last week by 3.3% from the previous Friday. Right at this moment the S&P500 futures are up 21 points–around .6%. This gain can evaporate quickly, but there is not specific economic news today which will derail the rally.
At this moment the 10 year treasury yield is at 4.14% which is down a few basis points from the close last Friday. My guess is that the yield will drift in the 4.05% to 4.15% area until Thursdays CPI release – then it is anyone's guess. A hot surprise sends the yield to 4.30% which will crater equities.
The Federal Reserve balance sheet assets fell by a hefty $47 billion last week to now stand at $8.68 trillion.
The average preferred stock and/baby bond fell last week 21 cents—about 1%. Investment grade issues 30 cents, banking issues by 36 cents. Junkier issues fell less–mREIT issues fell 4 cents and shippers rose 3 cents. BDC issues fell 7 cents with insurance issues falling by 42 cents.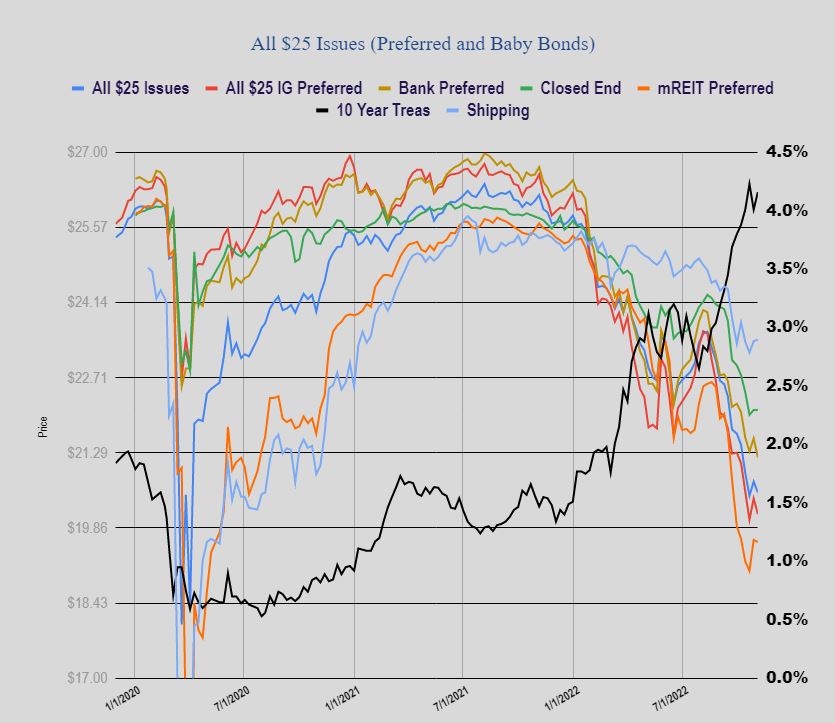 Last week we had no new income issues priced.