The S&P500 had a stellar week last week as the index zoomed higher closing at 3901 which was a gain of just about 4% on the week–just a few points off the high for the week.
The 10 year treasury yield closed the week at 4.01%, which was lower by 20 basis points on the week. The yield ranged from 3.91% to 4.29% on the week—a wide range for a singular week as economic data finally weakens a bit and whispers of a 'pause' or slowing in the increases of the Fed Funds rate grip the market. It is a big week as the FOMC will meet Tuesday with an interest rate announcement on Wednesday at 1 pm (central)–then we have the employment report on Friday. So almost without doubt we will see some wild markets.
The Fed Reserve Balance Sheet assets fell by $21 billion last week–down $72 billion in the last 4 weeks.
The average $25/share preferred stock and baby bond rose by 27 cents with strong gains on Friday (in particular Friday afternoon). Investment grade issues rose by 41 cents and banks by 25 cents. CEF preferreds rose a measly 9 cents while mREIT preferreds moved a strong 59 cents.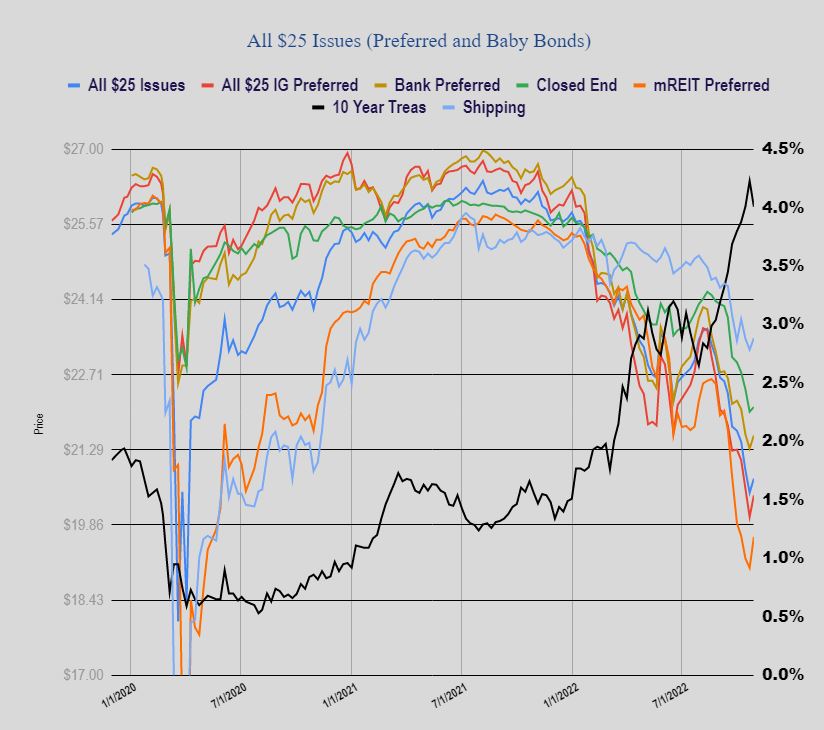 Last week we had no new income issues priced.