Well another rough week was had by equities last week as the S&P500 fell again–down 2.9%. I suspect this downward move will continue for some time, but hopefully interrupted by occasional bounces.
The 10 year treasury moved higher week over week by 10 basis points to close at 3.80%. The yield touched 4% on Tuesday before the Bank of England announced a temporary QE (quantitative easing) program. Obviously much higher interest rates around the globe is causing some markets to 'break'.
This week we have employment numbers for September which is forecast to show 275,000 new jobs created with an unchanged unemployment rate of 3.7%. This is the big economic news for the week–it doesn't come until Friday so we may have a short respite from craziness.
The Fed balance sheet fell by $21 billion last week as the Fed lets about $95 billion in assets 'run off' the balance sheet.
Preferred stocks and baby bonds stabilized last week as the average $25/share issue fell by just 8 cents/share. Investment grade issues rose 2 cents with banking issues up 6 cents. mREIT preferreds took a giant tumble–off 90 cents/share. BDC baby bonds fell a nickel, while insurance issues rose 21 cents.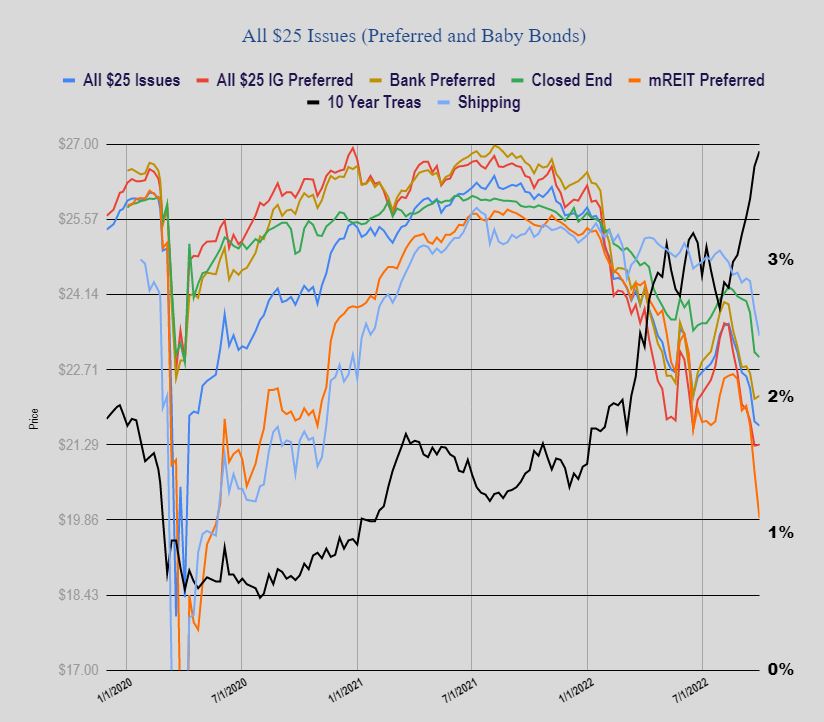 Last week we had no new income issues priced.