The S&P500 traded in a range of 4218 to 4325 closing the week at 4228 which is a drop of about 1.2% from the previous Friday–in the big scheme of things not much of a move.
The 10 year treasury rose to close at 2.99% which was a rise of about 15 basis points over the previous weeks close. The market place has now turned their focus from inflationary fears to the Fed driving interest rates higher based on a doubling of quantitative tightening to begin in September. This is a bit scary–while the Fed may slow their pace of interest rate hikes based on a slightly softening economic picture, the doubling (to the $95 billion area) of the runoff and sales of the Fed balance sheet is likely to bring some unwanted results (higher interest rates and lower stock prices). It is likely we will see mortgage rates shoot higher yet with the Fed letting $35 billion/month of mortgage backed securities run off the balance sheet. We'll see what this grand experiment brings us.
The Federal reserve balance sheet fell by $30 billion last week bringing the balance sheet to $8.85 trillion–of course even with the ramping up of reductions next month the odds that we see even $8 trillion before the Fed is forced to suspend because of weak economic conditions–or a recession of some magnitude.
Last week was a tough week for $25/share preferreds and baby bonds as the average issue fell by 30 cents. Of course there had been significant gains in the last few months so a bit of a set back is to be expected. Investment grade issues fell by about 50 cents, banking issues by 49 cents while mREIT preferreds rose 3 cents and CEF issues were off 6 cents.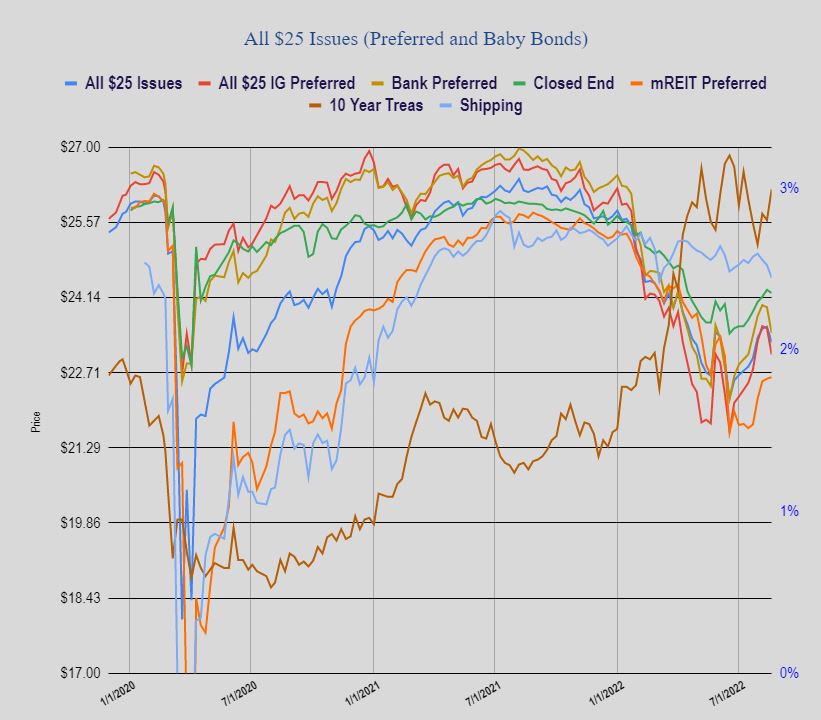 Last week we had 3 new income issues priced.
mREIT Sachem Capital (SACH) sold a new $25 baby bond with a high coupon of 8%.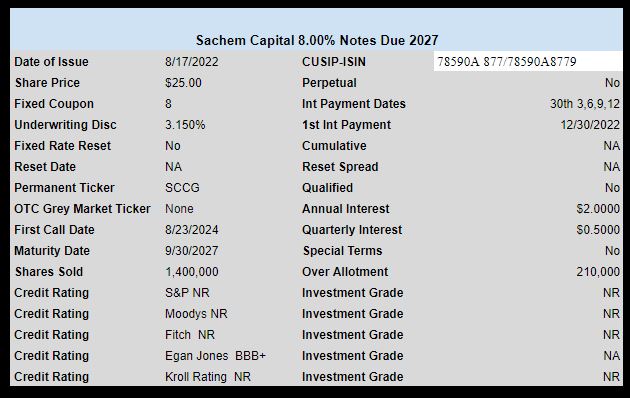 Illinois banker Midland States Bancorp (MSBI) sold a new issue of fixed rate reset preferred with an initial coupon of 7.75%. The issue is trading on the OTC under ticker MSBSL and closed last Friday at $25.20.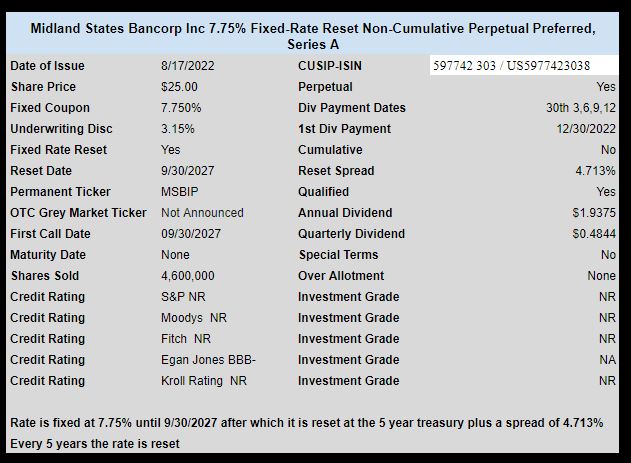 Keycorp (KEY) sold a new issue of fixed rate reset preferred stock with a decent initial coupon of 6.2% The issue is now trading OTC under temp ticker KEYHL and closed Friday at $25.21.