Last week was quite 'exciting' as all weeks have been for months and months and will be for the balance of the year—every piece of economic news scrutinized and debated.
The S&P500 was up on the week by about 1/3%, but traded in a about a 2% range. The index is about 14% off the 52 week high.
The 10 year treasury ended the week at 2.84% which was up 20 basis points on the week after strong employment numbers drove the yield higher on Friday. This week we have the release of the Consumer Price Index (CPI) on Wednesday morning so the tone for Wednesday, Thursday and Friday will be driven by this number.
The Federal Reserve balance sheet fell by $16 billion last week to $8.87 trillion.
Last week the average $25/share preferred stock and baby bond rose by 17 cents last week. Investment grade issues were up by 24 cents, banking preferreds rose 18 cents, CEF preferreds rose by a dime and shippers fell 2 cents—a decent week, although prices softened on Friday after the employment numbers were released.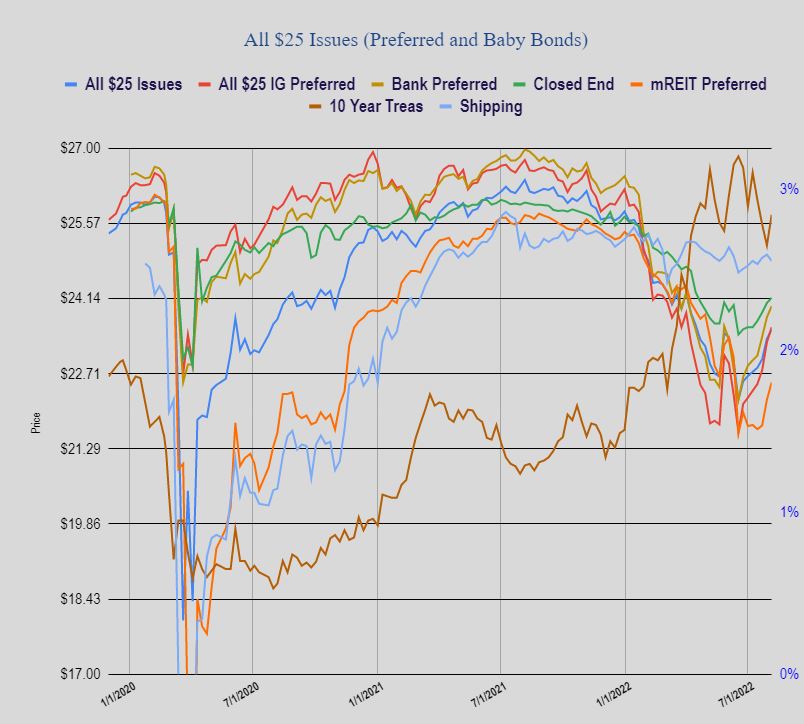 Last week we had no new income issues priced.