The S&P500 moved in a range of 3721 to 3881 last week and closed on Friday at 3863 which was down almost 1% from the close the previous Friday.
The 10 year treasury closed at 2.93% last week which was off 17 basis points from the close the previous week. This fall in yield was on the back of a very hot CPI and PPI reports – it is becoming more obvious by the day that investors believe that a recession is either here–or will be in, the next few quarters. The 2 year treasury is trading around 3.15% so we have rates inverted by around 20 basis points.
This week we have bunches of news releases on home building and sales and looking at all of these as a group should give a little clarity to economic conditions. We have the home builders index today, building permits and housing starts tomorrow and existing home sales on Wednesday.
Last week we had the Fed Balance sheet increase by $4 billion leaving the balance sheet assets at $8.896 trillion. The high balance in assets was in mid April at $8.965 trillion. Of course this balance sheet will NEVER be run off — maybe a couple trillion, but that will be about it. This gives the Fed the ability to move to quantitative easing in the future when it is needed.
Last week the average $25/share preferred stock and baby bond moved up by 8 cents per share. Investment grade issues moved up 13 cents, banks moved 6 cents higher with mREIT preferred's off 8 cents and ocean shipper preferred's down by 6 cents.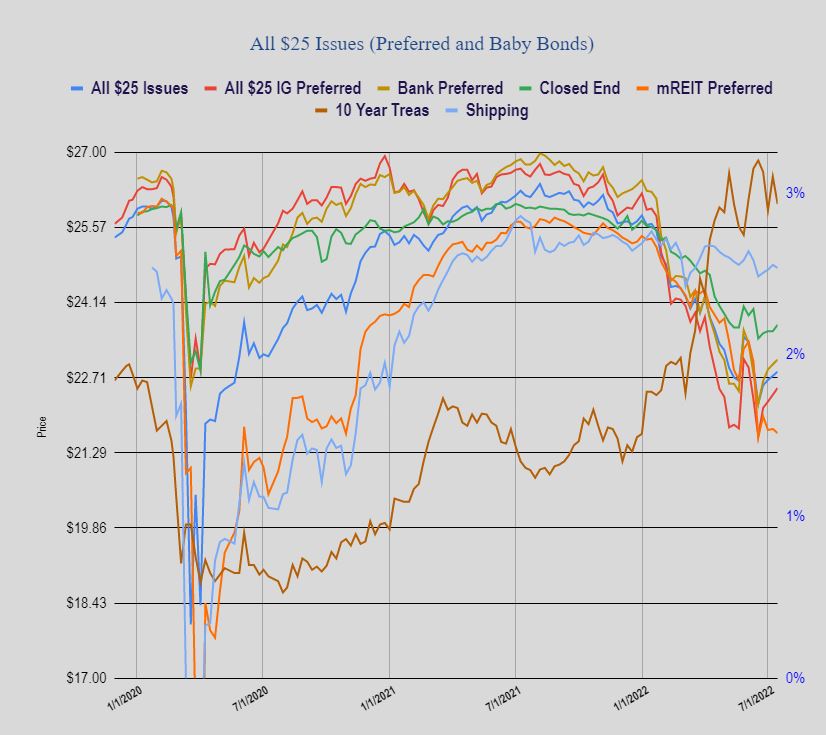 Last week we didn't have any new income issues priced.