Last week the S&P500 moved higher by about 2% which was a holiday shortened week of trading.
Friday saw the release of stronger than expected employment numbers with 372,000 new jobs created in June versus an expectation of 250,000. The unemployment rate remained at 3.6% meeting expectations.
The 10 year treasury which started the week around 2.87% shot higher as the week went by and with the employment numbers moved as high as 3.10% which is where it closed.
The coming week will give us the consumer price index (CPI) on Wednesday–you can be certain that there will be fireworks – which direction no one knows, but certainly we could get a sharp move higher in interest rates if we see numbers showing inflation higher than expectations.
The Fed balance sheet fell by $43 billion over the last 2 weeks–the largest reduction in assets that we have seen in about 2 years.
Last week we had only minor movement in $25/share preferreds and baby bonds. The average share price moved higher by 8 cents. Investment grade issues moved up 13 cents, banking issues moved up a dime, mREIT issues moved 2 cents higher, while CEF preferreds were flat.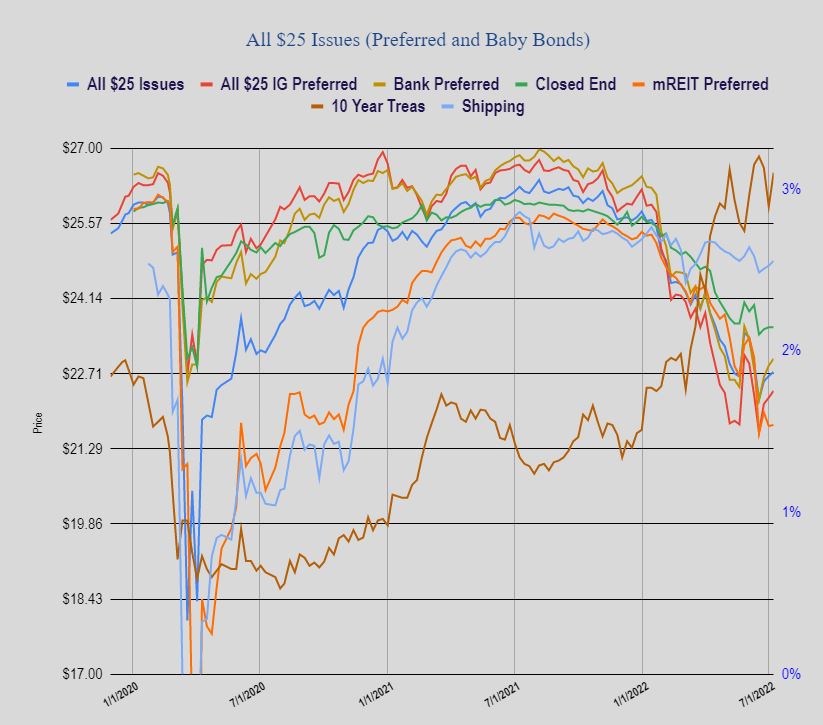 As has been typical there were no exchange traded income issues priced last week.