A wild week is on tap for the coming week. Futures markets are off around 2% this morning as there is more talk of a 75 basis point Fed Funds rate hike on Wednesday after the FOMC meeting. Also, notably, crypto is getting crushed with bitcoin in the $24.000 area.
Last week the S&P500 got clipped by 5% grinding lower all week as inflation numbers released showed no 'peak inflation'. Friday was a particularly ugly day with losses of 2.7%.
The 10 year treasury was relatively tame for a week with 'bad news'. Closing the week at 3.15% which was 20 basis points above the previous Friday close, but 1/2 of that increase occurred on Friday. This could have been much worse–but just maybe that has been reserved for this week? We'll just have to wait and see–although at 5 a.m. (central time) we see the 10 year treasury up 10 basis points to 3.25%.
The Fed balance sheet showed a $3 billion increase.
The average $25/share preferred stock and baby bond fell by around 2% or 46 cents. Investment grade fell by 60 cents, banking issues by 57, mREIT issues fell by 37 cents with shipping issues falling just 17 cents.
The average $25 share remains 22 cents above the 52 week low of $22.72. We will see new lows in these issues today.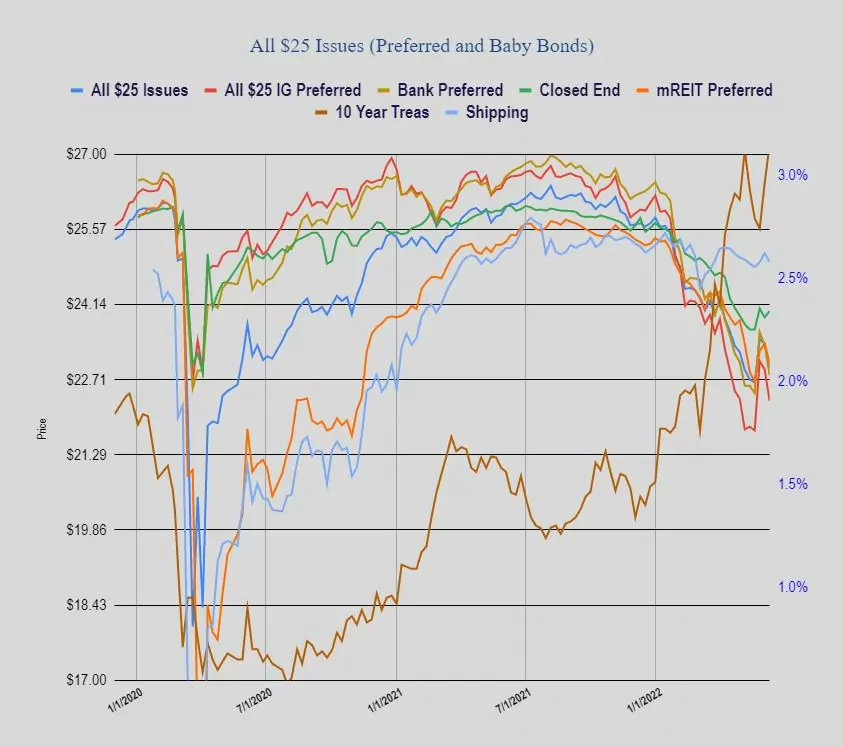 Last week we had 2 new income issues priced.
Horizon Technology Finance Corp (HRZN) priced a new issue of $25/share baby bonds with a coupon of 6.25%. Being debt there is no OTC trading and I am not aware that this issue is trading yet–but will in the next couple of days.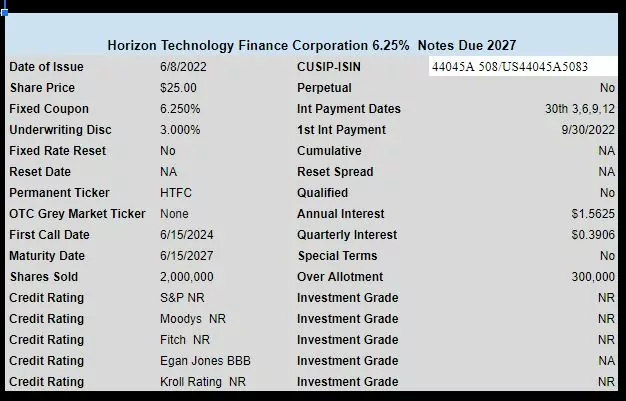 Oxford Lane Capital (OXLC) priced a new issue of term preferred shares with a coupon of 7.125%. This issue is now trading OTC and last traded at $24.24. This is a monthly payer. NOTE the ticker is now OXFCP.