While last week felt like a dramatically down week for the S&P 500 it was NOT–the S&P 500 fell by a measly 7 points on the week–less than 1/10%. Of course the moves up and down were giant sized with 3% moves on Wednesday and Thursday. Right now the futures are indicating the S&P 500 down 2% to start the week.
The 10 year treasury traded in a range of 2.90% to 3.13% closing the week at 3.12%–up 22 basis points on the week. Markets don't tolerate moves of this magnitude very well–speed kills (in driving and interest moves). At this moment the 10 year treasury is trading up 6 basis points from last week close at 3.18%.
The Fed balance sheet grew by $1 billion last week.
The average $25/share preferred and baby bond took a whack last week, as might have been expected, and was off 34 cents. Investment grade issues were the worst of the bunch as they fell by 58 cents. Banks fell 45 cents while mREITS fell by 44 cents. CEF preferred were pretty stable as shares fell by 16 cents–folks are moving into safety. Junky shippers fell just 5 cents.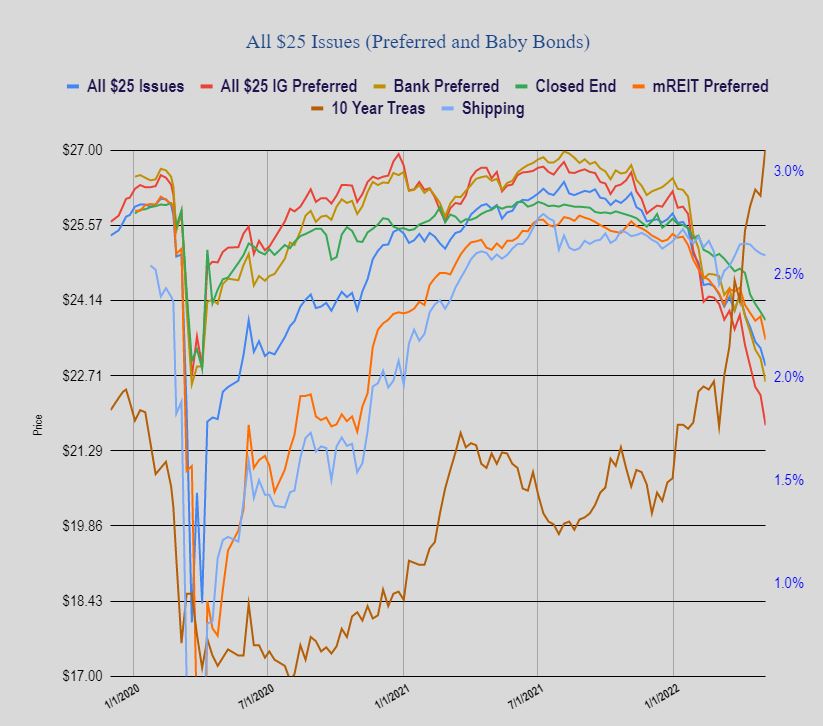 Last week we had 1 new income issue price with Sachem Capital (SACH) coming back to the markets for a note issue. The new issue prices at 7.125% which is way above where they priced an issue in March–the March issue was at 6%. The new issue has ticker SCCF and will trade in a week or so (no grey market trading).