Here we go–another week which will be full of ups and downs in equities and interest rates. On Tuesday the consumer price index (CPI) will be released and the forecast is an increase of 8.4% year over year. Also we have at least 5 speeches from FED folks including Lael Brainard on Tuesday.
Last week the S&P500 moved in a range of 4475 to 4593–a relatively tight range, before closing the week near the lows at 4488—down about 1 1/4% on the week.
The 10 year treasury started last week at 2.37% and ended on Friday at 2.71%–near the weekly high at 2.73%. At this moment (6 am central) it is trading at 2.75%. With FED officials speaking this week and the CPI release I suspect this is moving higher this week–but hope the rise is modest.
The FED balance sheet was absolutely flat last week at $8.937 trillion.
Last week we had quite a give back in $25/share baby bonds and preferred stocks with the average share price down 38 cents. Investment grade issues fell 57 cents, banking issues by 41 cents and mREIT issues fell 33 cents. Shipping issues were the strongest sector with a gain of 2 cents.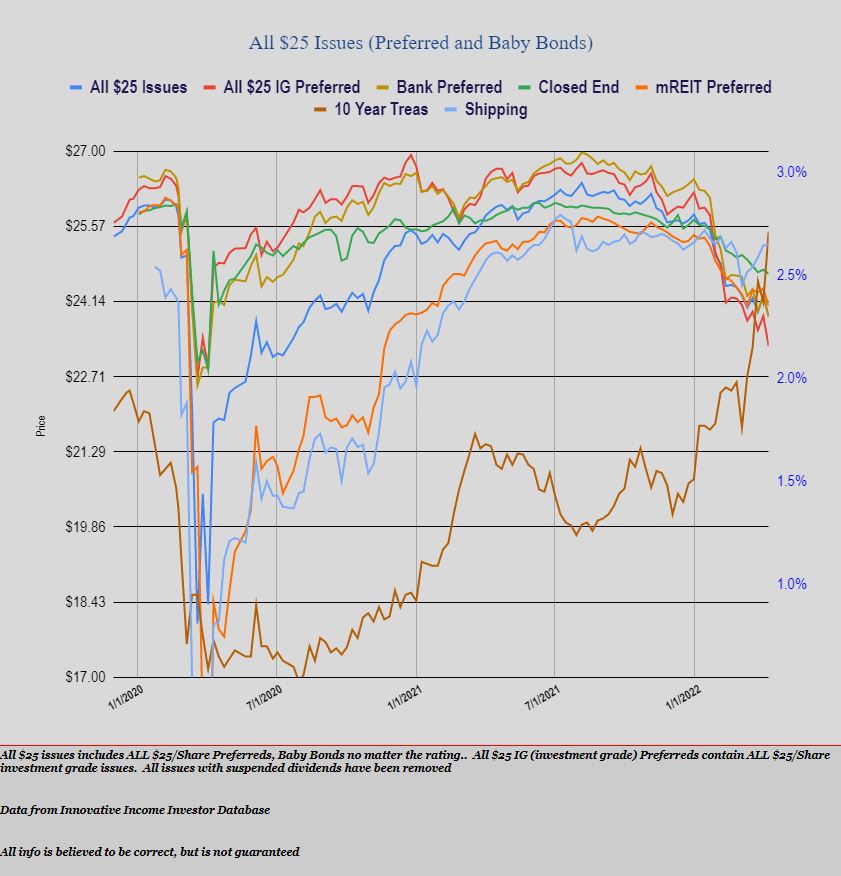 Last week we had 1 new income issue announced–although not priced. CEF Rivernorth Opportunity Fund (RIV) announced they will sell a new perpetual preferred. Until this point in time the fund has not priced the issue.