Well last week was another exciting week–although not in a good sort of way. I suspect we will once again have an up and down week in equities as folks continue to grapple with hot inflation and the correspondingly higher interest rates. On top of this the Russia/Ukraine tension just adds to the negative tenor of the markets.
The S&P500 fell by 1.8% last week, while the DJIA fell by just 1%. The S&P500 is now 8.3% off of the 52 week (and record) high. NASDAQ is off about 15% from the 52 week high.
The 10 year treasury, as everyone knows by now, spiked up to 1.98%, before settling Friday at 1.955% as consumer inflation came in hot with the month to month increase in prices coming in at a +.6% showing that pressure to the upside remains hot. We will see producer price numbers tomorrow (Tuesday) for another read of potential future inflation—a plus .5% is expected.
The Fed balance sheet assets moved higher by $5 billion last week. In the last 3 weeks the balance sheet rate of increase has slowed substantially as the last 3 weeks has shown a total increase of just $11 billion.
The average $25/share preferred stock and baby bond took a shellacking last week with a loss of 43 cents/share. Investment grade issues were hammered down by almost 3% with a 70 cent/share loss. mREIT preferreds fell by 14 cents and shipping issues by 20 cents. Bank preferreds were off 58 cents/share with CEF preferreds off 27 cents. This continues to confirm that the most high quality issues fall the most during times of increasing interest rates.
The chart below gets uglier by the week.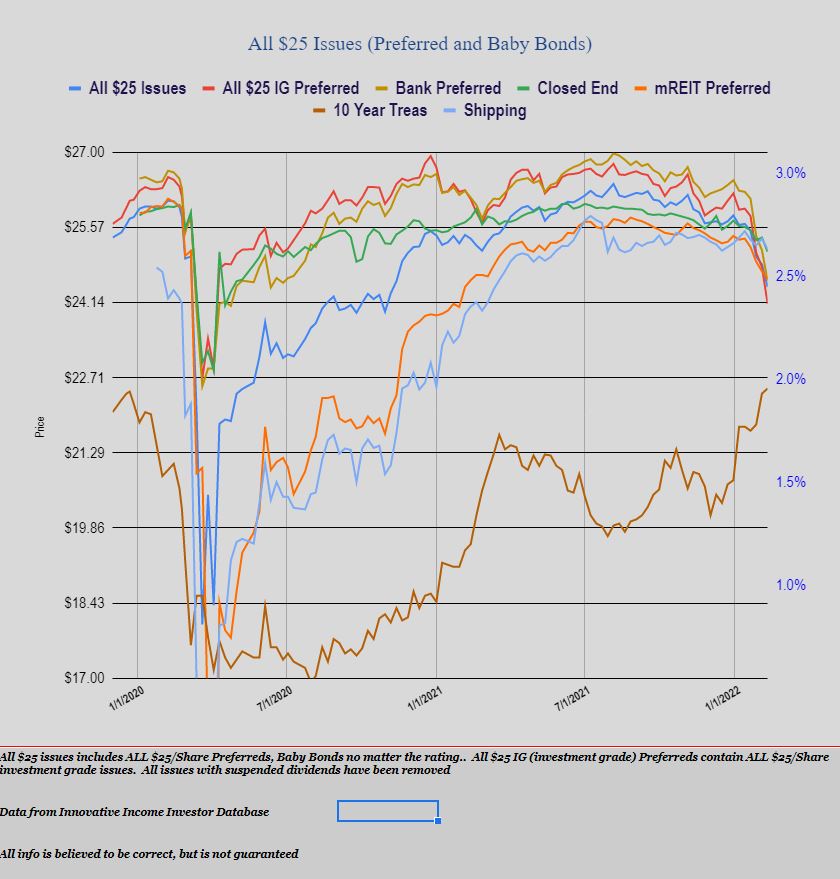 Last week we had no new income issues priced–no surprise in this time of turmoil.