Ok, so we have had some really wild times in the equity markets over the course of these last few weeks. Last week we had a little respite, although the week was red until Friday. The S&P500 sprinted higher by 2.43% on Friday to close the week up .9%. This leaves the index at 4432 which is almost 400 points off the high of 4819. My strong suspicion is that we will see a little less craziness this week, but soon will continue downward movement as markets prepare for increasing interest rates. In the end–who really knows what will happen.
The 10 year treasury closed the week at 1.78%. The range of pricing was pretty wide with a low of 1.71% to a high of 1.86% which was registered just after the FOMC meeting on Wednesday. This will be an interesting week for interest rates. Are rates going to work there way higher or will they continue to back and fill? We have employment numbers this week on Friday–I don't believe this will heavily considered by markets.
The Fed balance sheet fell by $7 billion last week–the first drop in almost exactly 1 month.
Last week saw the largest losses in $25/share preferred shares and baby bonds that we have seen in quite some time. The average share price fell by 50 cents—with the investment grade and banking issues being the disaster of the week falling by just shy of 70 cents. mREIT preferreds fell by just under 1% with shippers 11 cents–just under 1/2%. As has been discussed on this site endlessly – low coupon,high quality issues will fall much faster than high coupon junky issues and this has been certainly borne out this week. It is noted that current interest rates are not the cause of this fall, but anticipated interest rates are responsible–plus tossing out the 'baby with the bath water'.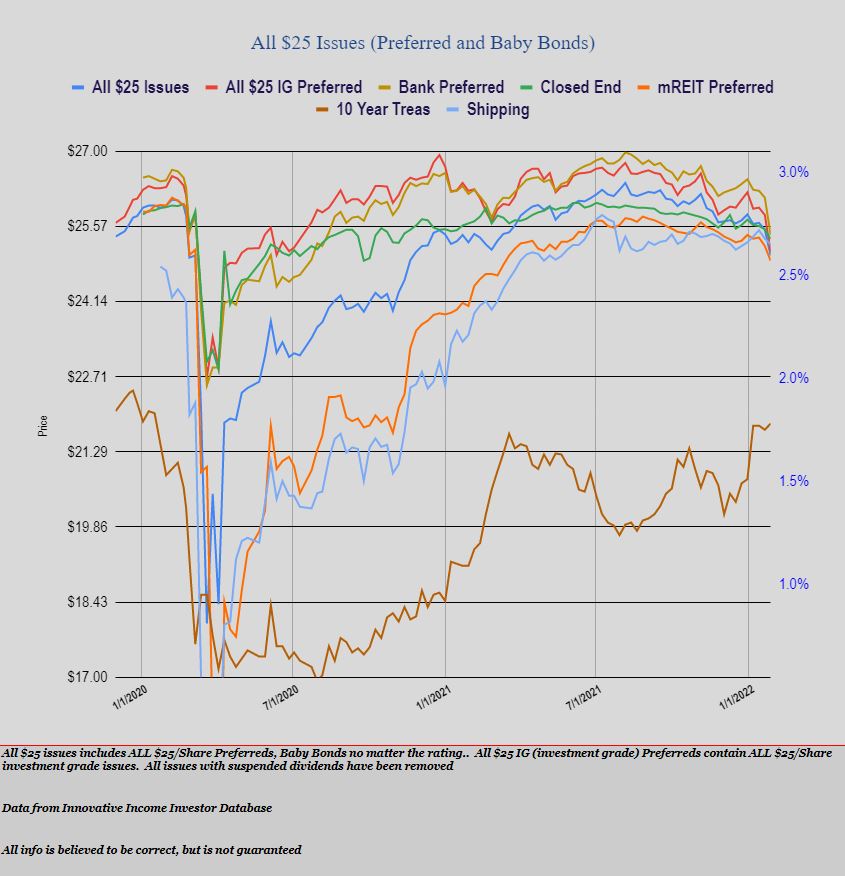 Once again we had no new issues last week.