It is looking like we are going to have a wild week again as the equity futures markets which were up 1/2% last night are now down 1/2%.
Last week the S&P500 fell by a whopping 5.6% which was capped off by a tumble of almost 2% on Friday.
Interest rates fell last week in sympathy with equities. The 10 year treasury closed the week at 1.74%–with a high on the week of 1.87%. I fully expect that we will see yields rise once equities stabilize.
The Fed balance sheet grew by $89 billion last week. The upward trajectory is not slowing as I thought it would have been doing based on the 'tapering' of asset purchases. Something is going on here that is highly suspect. Well there is a FOMC meeting this week so no doubt there will be more news on this topic.
In spite of falling interest rates they were not helpful to $25/share preferred stocks and baby bonds. These are not typical times and these shares are moving based upon the severe losses in the equity markets–the baby is getting tossed out with the bath water to some degree–'fear' has crept into most markets.
The average $25/share issue fell by 13 cents last week–about 1/2%. Investment grade issues fell by 14 cents, mREIT preferreds fell by 16 cents. CEF preferreds fell by just 6 cents–maybe a tiny bit of a 'safety' play for investors.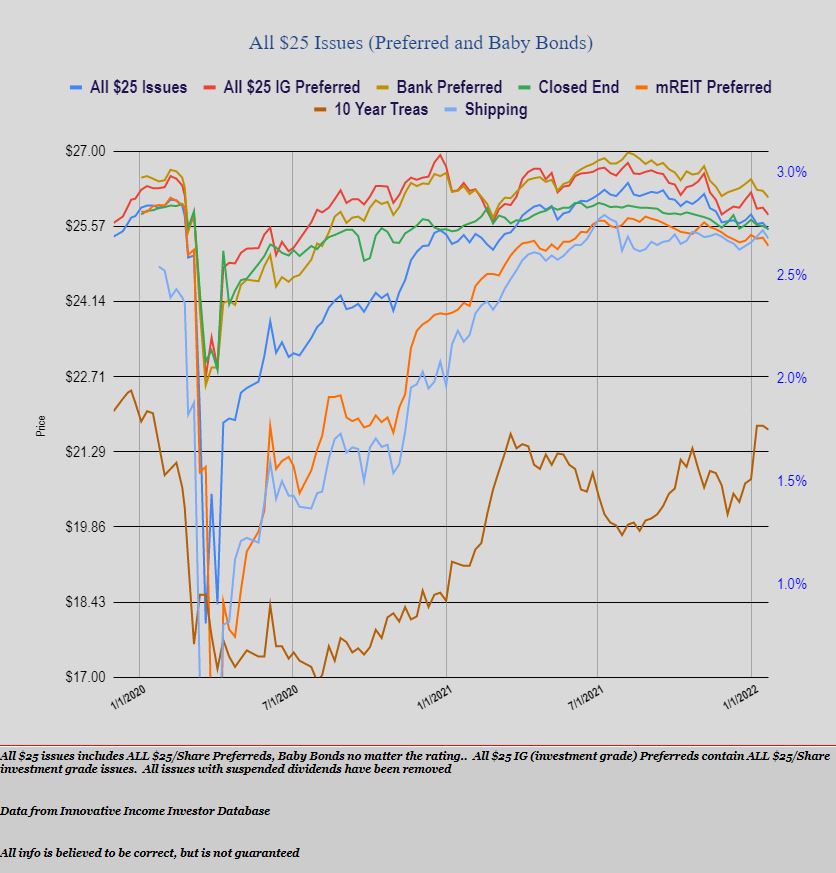 With hard tumbling markets we have not seen new issues priced. This is not unusual as the pricing of new issues in this environment is difficult and the risk of making an error in pricing incorrectly is elevated.