Well after last weeks rout of the Nasdaq by 5% and the S&P500 moving lower by 2% I look forward to a bit of stabilization. On the other hand with the consumer price index (CPI) being released on Wednesday we have potential for mid to late week fireworks. A 7.1% year over year increase is expected–any substantial deviation higher from the expectation could serve to send equities into a tail spin.
Interest rates, as represented by the 10 year treasury, shot higher by 26 basis points to close at 1.77%. With continued yakking by Fed presidents this week we are on the verge of breaking through the current level and moving above 1.80%. Regardless where rates go we would like it to happen a bit slower than the climb last week–slow movements are less damaging to income securities–less likely to cause a taper tantrum.
The Fed Balance Sheet had a 2 week movement (they were behind because of the holidays) of minus $25 billion.
The average $25/share preferred stock and baby bond moved lower last week by 18 cents. Investment grade issues fell by 28 cents and banks by 20 cents. Shipping issues being the lone sector with a gain of 11 cents.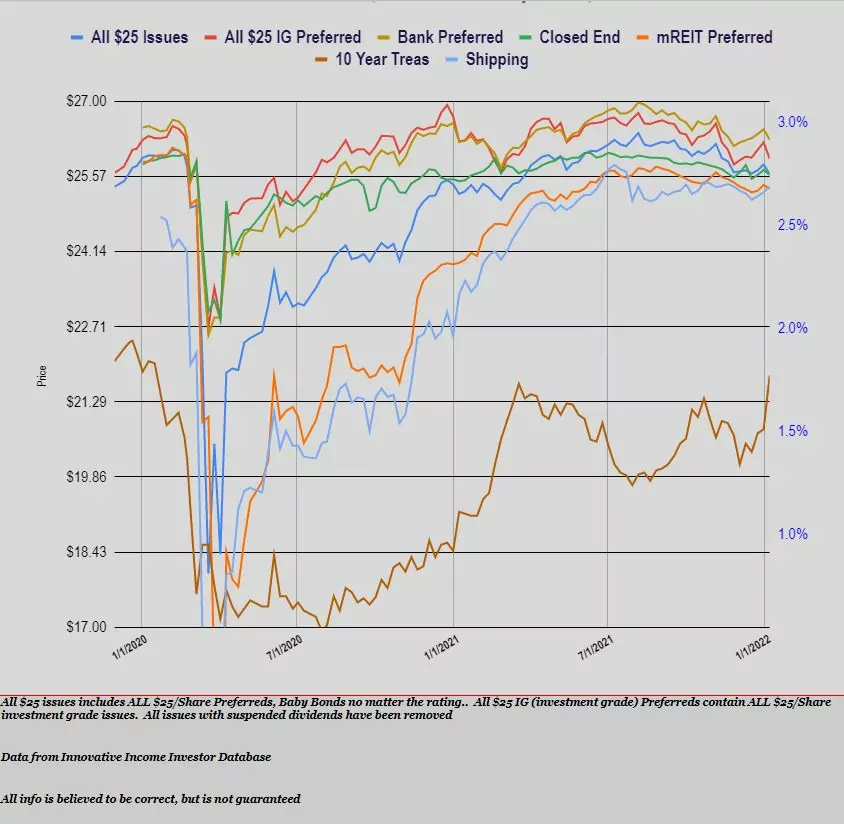 Last week we had 2 new income issues and 1 reopening of an issue.
KKR Real Estate Finance (KREF) announced they were reopening their 6.50% cumulative, perpetual preferred (KREF-A). The company sold 4.4 million new shares in the reopening. The issue closed at $25.37 last week.
Storage giant Public Storage (PSA) sold a new 4.10% perpetual preferred which is trading under ticker PASDV and closed Friday at $24.73.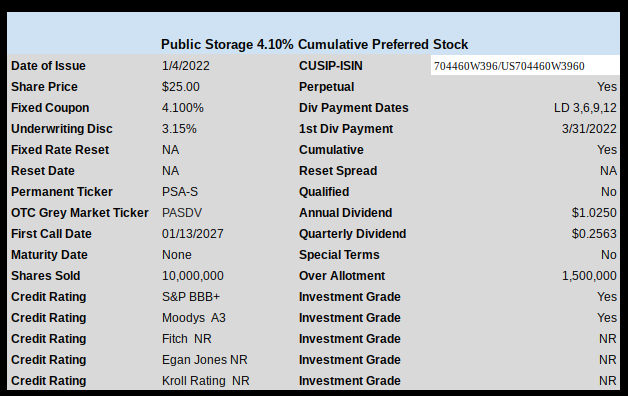 Oxford Lane Capital (OXLC) sold a new baby bond with a meager coupon of 5.00%. This issue will trade on NASDAQ under ticker OXLCZ. The issue is not trading as of yet, but should trade this coming week.