A shortened week didn't stop the S&P500 from moving higher by 2.3% and record highs. Of course thinly traded markets can move readily in either direction–plus there is no reason to believe that common stocks will be moving lower anytime soon as adequate liquidity remains available.
The 10 year treasury moved higher by 9 basis points from the previous Friday closing at 1.49%. Of course each week brings us closer to the time when there will be no Federal Reserve support in the form of QE. As higher interest rates and less QE take place on a global basis we have potential for a real interest rate shock with a move of the 10 year to the 1.75%-2.00% area. Of course we have looked for higher rates for literally years and markets have made fools out of all the 'experts' in this regard.
The Federal Reserve balance sheet shot higher by $92 billion–very interesting. I assume this is a timing issue. As noted by some of the readers watch what the Fed does – not what they say.
Last week the average $25/share baby bond and preferred stock continued on a flattish trajectory as the average share moved just 6 cents higher. Investment grade issues moved 15 cents higher while bank issues moved 5 cent higher mREIT preferreds up 3 cents.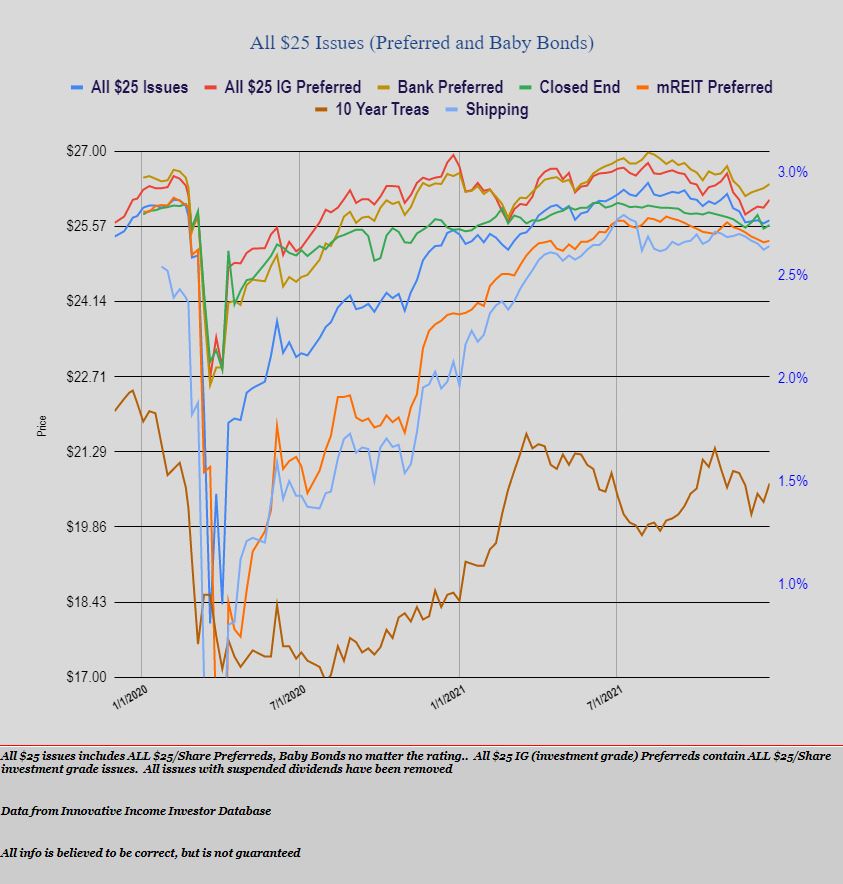 With the shortened holiday week we had NO new issues priced last week. I wouldn't be a bit surprised to see nothing new announced this week as well.