The Standard and Poor's 500 hit a record high last week closing Friday 2% higher than the previous Friday. No surprise to me and probably not to you. There is so much cash on the sidelines that is available to 'buy the dip' that absent a 'black swan' there are very low odds of equities falling.
Interest rates, which early in the week moved higher based on nervousness over potential detailed news on 'tapering' timing, ended the week at 1.31% (10 year treasury). The weekly range was 1.25%-1.38%. Again there is little chance of rates moving much higher as pops in rates bring in sideline money putting a ceiling on rates. Additionally Fed Chair Powell confirmed once again that there are bunches of reasons not to taper–he is waiting for the perfect time to taper-like he will know it when he sees it.
The Fed balance sheet dropped by $10 billion last week–the occasional stair step down move–meaningless noise.
The average $25 preferred and baby bond moved higher by 4 cents. Investment grade moved 4 cents higher, bank preferreds moved 10 cents lower, CEF preferreds were dead flat and mREIT preferreds moved 10 cents higher.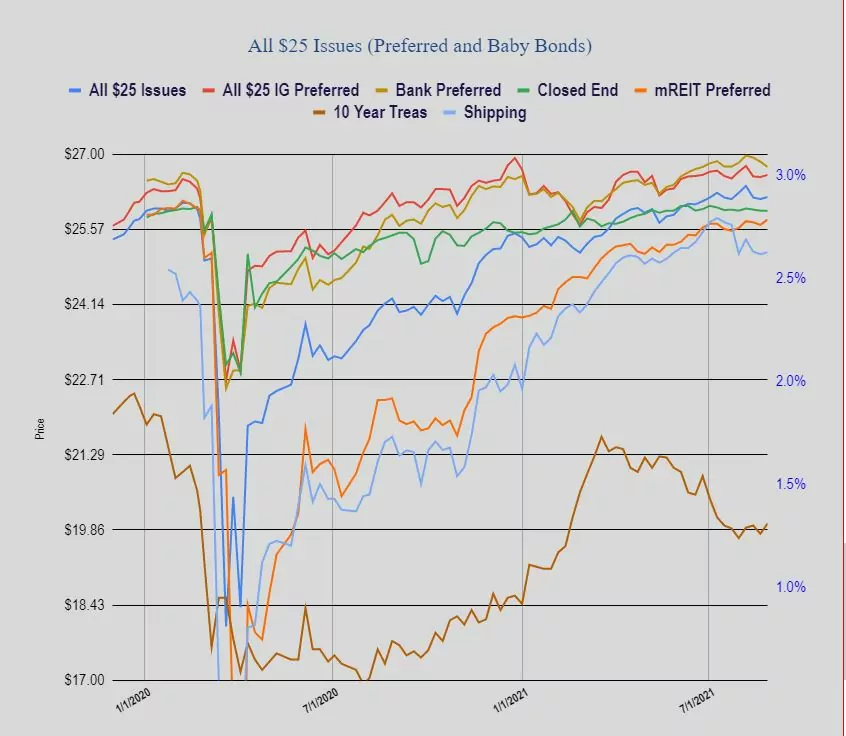 Last week we had just 2 new income issues priced, although we had 3 announced. As of this moment I have seen no pricing on the new term preferred from Eagle Income Company (EIC).
Environmental remediation company Charah Solutions (CHRA) sold a new issue of 8.50% senior notes with a maturity date in 2026. I don't see this issue trading as of yet, but it is 'teed up' at eTrade.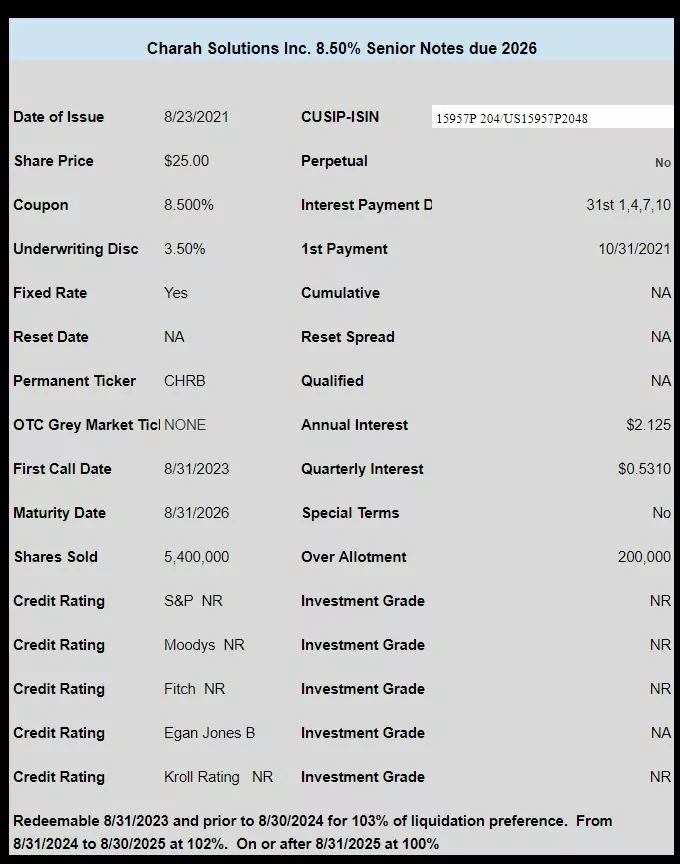 Energy company Tellurian (TELL) priced a new baby bond with a maturity date in 2028 and a coupon of 8.25%. This issue is not trading at this time.
New Baby Bond–Tellurian
Tellurian Inc (TELL) has priced the previously announced $25 baby bond.
The issue prices with a coupon of 8.25% for 2 million shares (bonds) with another 300,000 shares available for over allotments.
The issue will have a maturity date of 8/31/2028. The optional early redemption period begins 8/31/2023.
Contrary to what I posted yesterday the issue is rated–by Egan Jones–at BBB+
Interest payments are made on the last day of January, April, July and October starting on 10/31/2021.
This issue will trade under ticker TELLL on Nasdaq
The pricing term sheet can be read here.