Last week was a bit of a rare week as the S&P500 fell on the week. The index fell by just shy of 1%. The index traded in a range of 4327 (the Friday close) and 4394 and closed at the low of the week.
The 10 year treasury yield fell–of course it fell–massive amounts of money are looking for a home and even 1.30% is better than nothing. The yield closed Friday at 1.30% which is 6 basis points below the close from the previous Friday.
The Federal Reserves balance sheet grew by a massive $107 billion last week. Below you see the pretty (and very consistent) chart of the balance sheet asset growth for 2021. YTD the assets are up about $900 billion on the year.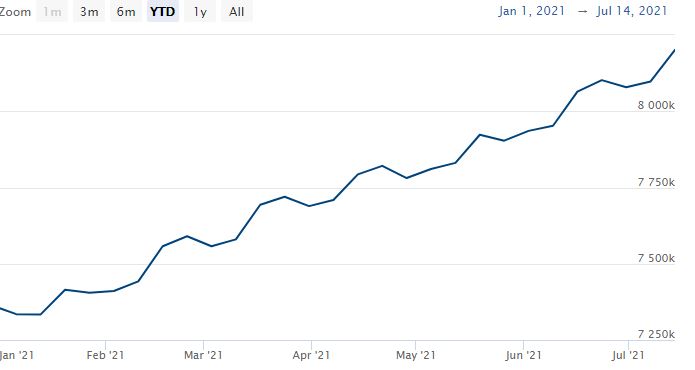 Last week the average $25 preferred stock and baby bond fell by 9 cents. Tiny losses were across the board (on average). Bank preferreds were off 10 cents, CEF preferreds 5 cents and mREITs 10 cents. It is likely these modest losses, experienced while interest rates continue their downward movement were caused by the downward movements of the equity markets (although I don't track daily movements).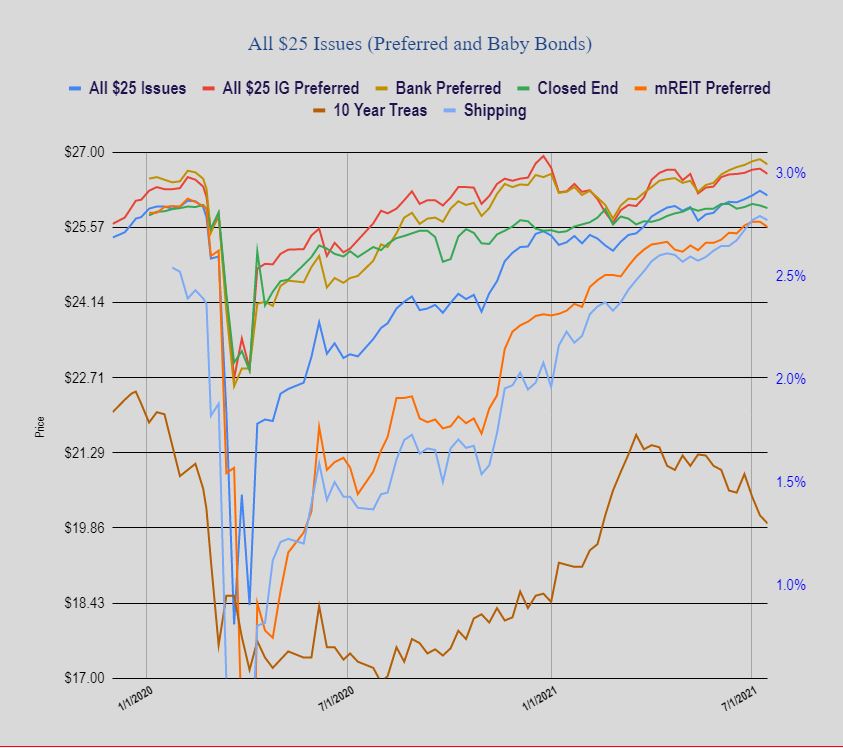 Last week was an active week for new issue issuance as 5 issues came to market.
First Republic Corp (FRC) sold a new non cumulative with a coupon of 4%. This issue is trading under OTC grey market ticker of FRBSV and closed on Friday at $25.00.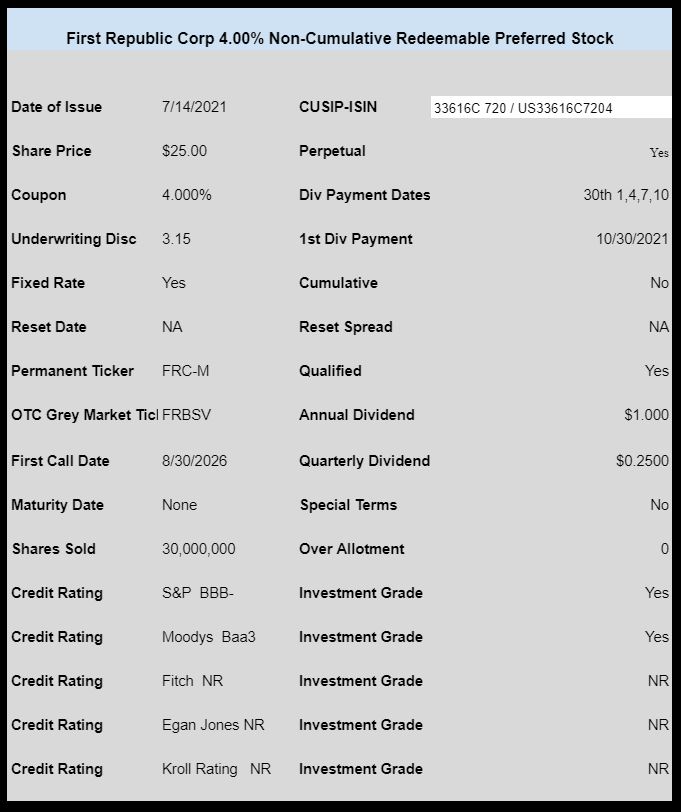 Stifel Financial (SF) sold a 4.50% preferred which is trading on the OTC grey market under ticker STFLV and closed Friday at $25.15.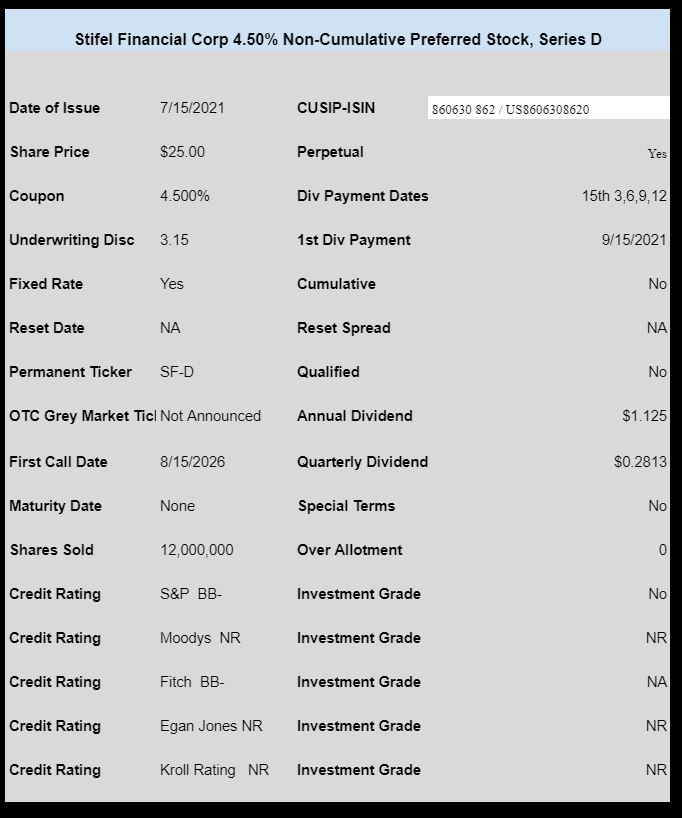 Lodging REIT Sunstone Hotel Investors (SHO) sold a new 5.70% preferred which is now trading OTC Grey market under ticker SNSHP and closed Friday at $25.80.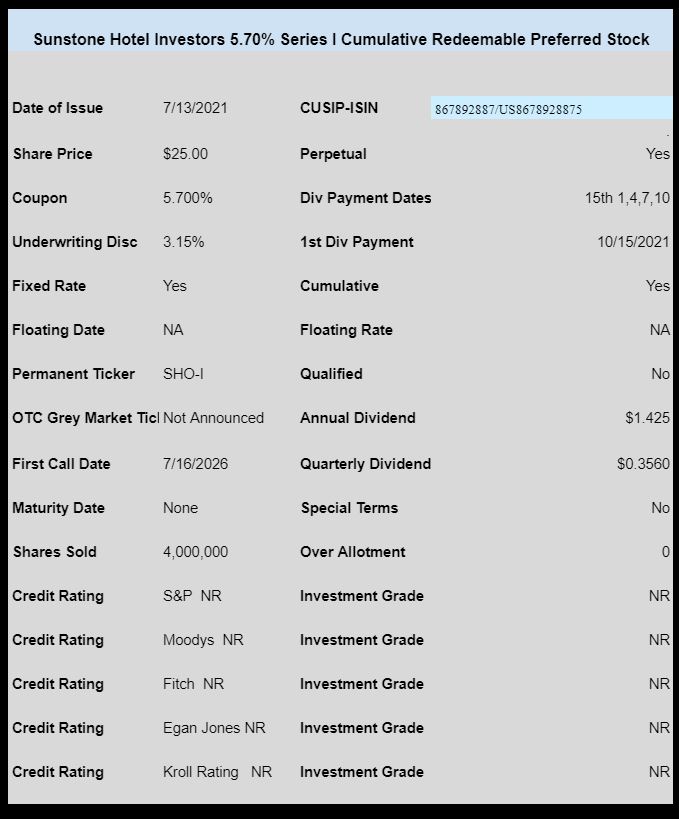 Business Development Company Prospect Capital (PSEC) issued a 5.35% perpetual preferred with a coupon of 5.35% and it is trading under OTC grey market ticker PSECV and closed on Friday at $24.90.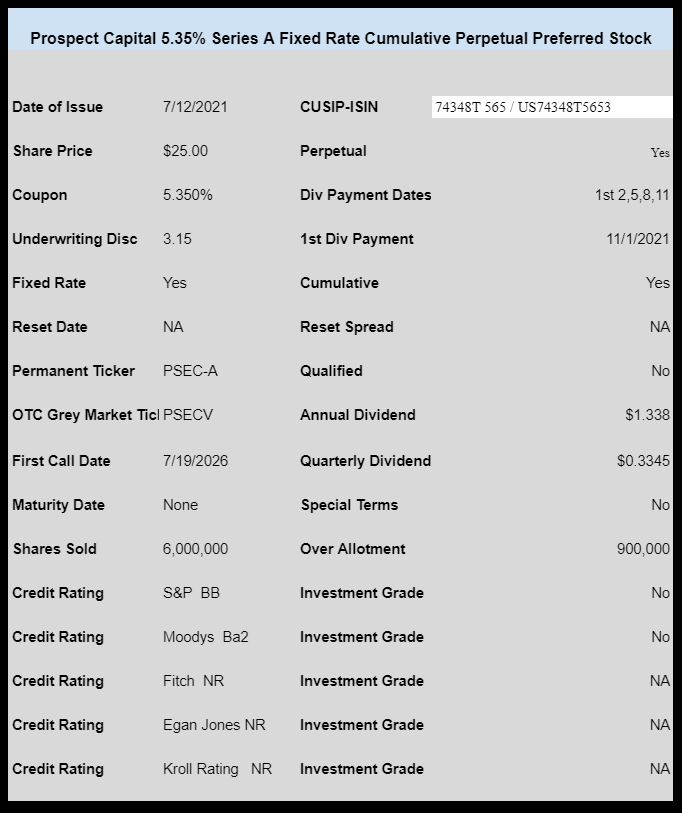 Applied UV (AUVI) sold an issue of 10.5% preferred which is trading under OTC grey market ticker AUVPP. The issue closed on Friday at $23.99