After a rough start to last week with the S&P500 down near 2% the index ended the week off by just 1/10%. A stellar performance as talks of capital gains tax hikes put a very temporary fear into the market. Of course all downside moves are bought as investors have endless amounts of investable cash–or so it seems.
The 10 year treasury yield continued to slowly drift lower in spite of what seems like endless anecdotal stories of inflation flaring totally out of control. The yield started the week at 1.60% and slowly drifted to 1.57% over the course of the week. I suspect rates will continue in the 1.50% to 1.60% 'goldilocks' area until investors come to a conclusion that the inflation is something other than 'transitory'.
The Fed balance sheet grew by $27 billion last week. That makes for an expansion of $130 billion or so in the month of April.
The average $25 preferred stock and baby bond rose by 3 cents/share last week. Investment grade issues were flat, banks rose by 2 cents, CEF preferreds by 4 cents. Overall a very quiet week.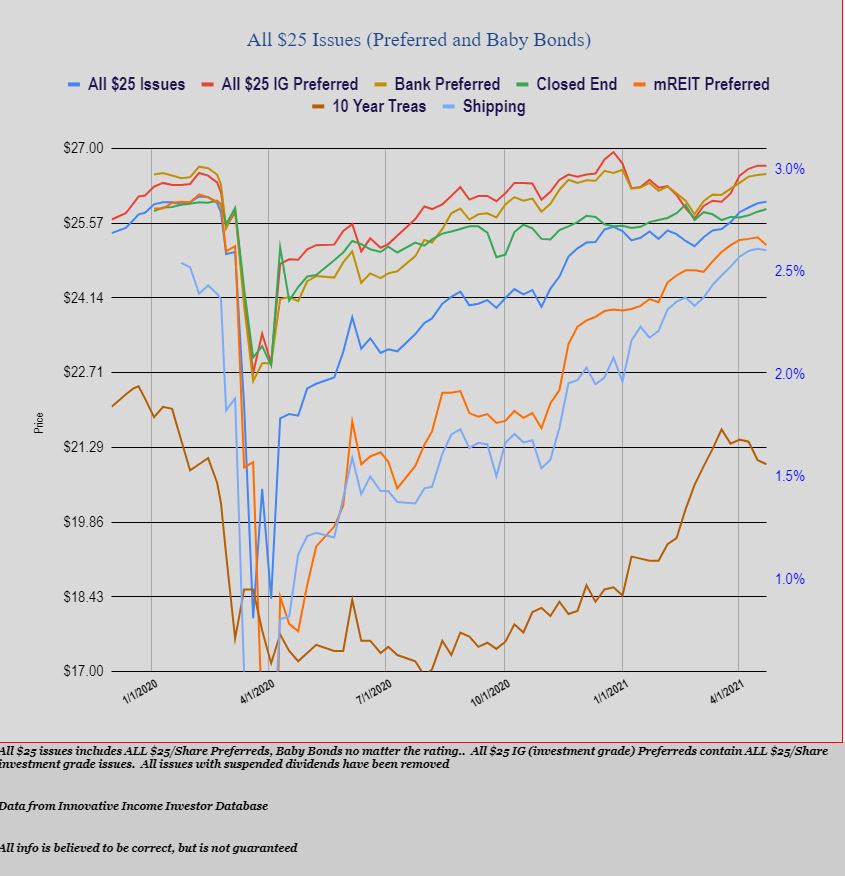 There were 2 new income issues priced last week.
Little finance company OFS Credit Company (OCCI) priced a new 'term preferred' with a coupon of 6.125%. The quality of the issuer, in general, is not deserving of this modest coupon, BUT the mandatory redemption date in 2026 helped keep the coupon low. There is always a relationship between firm redemption dates and the coupon an issue prices at. In this case if the company would have gone with a 2028 – 2030 mandatory redemption they would have priced at maybe 6.625% to 6.75%.
This issue is currently trading under temporary ticker symbol OCCPP and closed last Friday at $25.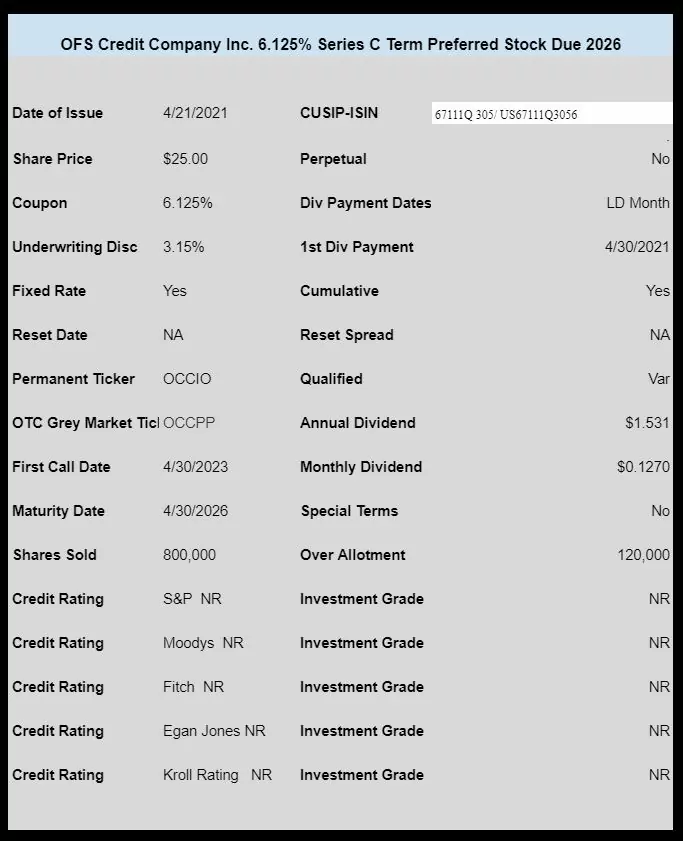 Tiny Louisiana banker First Guaranty Bancshares (FGBI) priced a new issue of perpetual preferred stock with a coupon of 6.75%. In what has become fairly commonplace in the last year the new issues of these small bankers have found solid demand in the markets. This new issue closed the week at $26.32 after trading as high as $26.65