Last week was a relatively quiet week in equity markets as Covid 19 vaccine began to be distributed and of course problems to be discovered–no one who has lived over 40 years could have believed it would come off without some difficulties. But thus far markets have digested news readily and I suspect that will mostly continue.
The S&P500 traded in a range of 3646 to3727 and closed the week at 3709 which is a gain of just over 1% on the week.
The 10 year treasury traded in a range of .89% to .95% and closed the week at .95% which is 5 basis points higher than the week before. With the Covid stimulus package finally on the verge of approval by congress will the package help put the 10 year treasury over 1%? With stock futures trading sharply lower this morning no challenge of 1% is likely today.
The Federal Reserve balance sheet exploded higher last week as the Fed bought huge amounts of mortgage securities and when added to a healthy dose of treasury purchases the balance sheet assets grew by $120 billion in the last week.
The average $25 preferred stock and baby bond rose last week 23 cents/share. Investment grade spiked higher by 27 cents , bank issue by 19 cents while the only loser was CEF preferreds which fell 14 cents/chare–mostly because of ex dividend dates.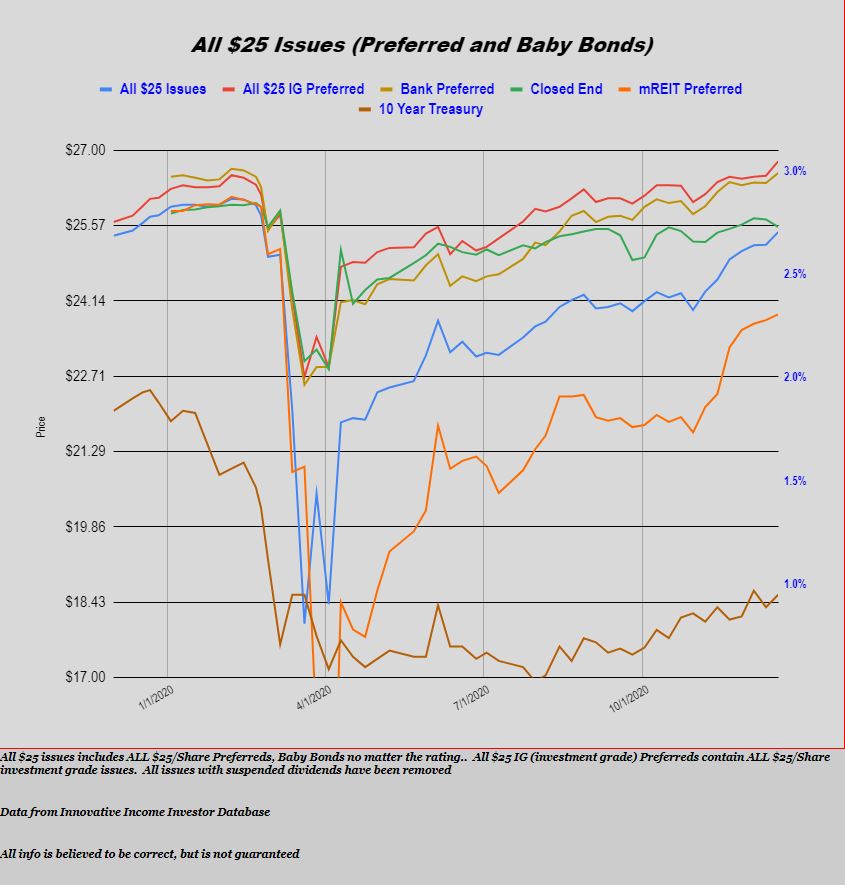 Last week we had 2 new income issues price.
Annuity company Athene Holdings LTD (ATH) priced a new issue of non cumulative preferred stock. The issue priced at 4.875%. The issue is trading on the OTC grey market under ticker ATHDF and closed last Friday at $25.08.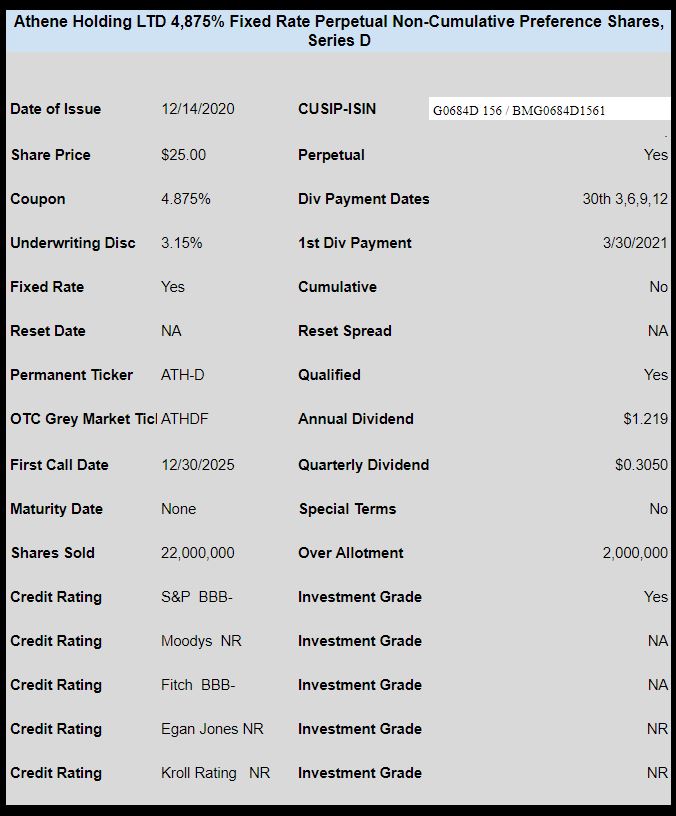 Triple net lease REIT American Finance Trust (AFIN) priced a cumulative preferred with a coupon of 7.375%. The issue is trading under OTC grey market ticker of AFINO (same as the permanent ticker) and closed Friday at $24.69.