Ready to go for another week of excitement. Actually as we always write we can do without the excitement and have all stocks and bonds trade perfectly flat day after day.
The 10 year treasury opened last week around 2.97% and then spiked higher to 3.04% by Wednesday before closing the week back just below where the week opened at 2.96%. While closing the week at 2.96% the 10 year remains at the highest level in 3 1/2 years so now we will see if the rate goes above 3% and sticks.
The biggest item we have for the coming week economically is the FOMC meeting which starts Tuesday and ends Wednesday. No one is talking about any rate hike for May, but with a new Fed leader I don't think one can count it out. A 'surprise' rate hike would be really disruptive to markets and honestly wouldn't be warranted as the economy is fairly tepid, but the Fed is trying to 'normalize' interest rates and they might do something silly. We hope they wait until next month before moving again.
Today we have pending homes sales being announced as well as the Chicago purchasing managers index. Tuesday is the ISM Manufacturing index and the Purchasing Managers Index. Wednesday is the ADP Employment report–and while this could be meaningful, most will blow off any surprise number as it is not 'official' and wait for the 'official' number which comes on Friday. Thursday we have the Productivity and Costs index being released and this has some potential for moving interest rates as it has inflation components in the report–any inflationary indications will help to move the 10 year treasury above 3%. Lastly as mentioned above we have the Employment Situation report being released Friday and the expectations are for 190,000 new jobs with an unemployment rate of 4%. The expectations of wages is that they will remain flattish and any jump in the wage component of this report could also move the 10 year treasury.
The average $25 preferred and baby bond fell by 13 cents last week to end the week at $24.88 and there are now 217 preferred stocks trading under $25. This compares to $25.01 and 198 respectively last week–so pricing is getting more favorable for investors–slowly but surely. Investors sometimes think they are remaining flat in the shares, but over time–month by month they lose 1%—it is just a very slow drip lower. For buy and hold investors like us it is difficult to do much more than break even, but we see no reason to change our ways–it is for us the most comfortable way to invest and we will be happy with modest gains on the year.
We do note that the Fed 'runoff' started back on track last week with a $13 billion runoff–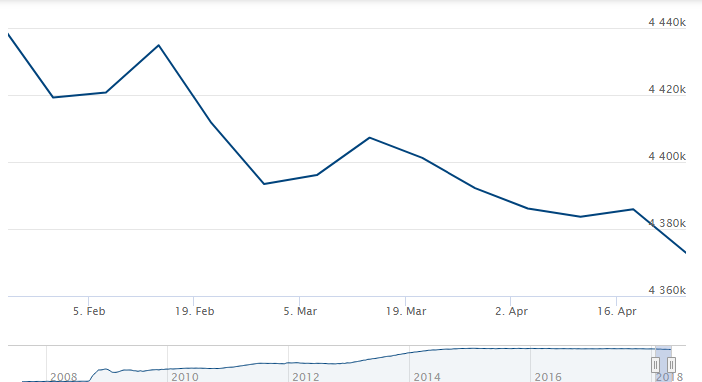 Of course even at this rate it will take longer than most of us have on earth to run off the balance–but the point is that it is moving slowly in the right direction. This runoff when combined with new money being raised by the treasury will keep rates moving higher–regardless of economic vitality.