Well another sizable up day is in store in the equity markets today–with all of the futures markets up over 1%. There is so much liquidity sloshing around in the 'system' —so much in fact that even the Fed is adding no new money in the last 4 weeks.
The S&P500 traded in a holiday shortened week between a low of 3000 to a high of 3166 before closing last Thursday at 3130 a gain of just over 4%.
The 10 year treasury traded in a range of .63% to .72% before closing the week at .67%.
3 month Libor closed last week at .30%–it was 2.31% 1 year ago.
The Fed balance sheet fell by $13 billion last week – which gives us a total reduction in assets of over $100 billion in the last 3 weeks. Proving that the liquidity in the system must be extremely good the REPO markets remain quiet–most days seeing overnight operations of 0-$7 billion last week. There was 1 day that had a $17 overnight repo–but still quiet relative to a month or two ago when we were seeing overnight REPO operations of up to $75 billion or so.
The average $25 preferred and baby bond gained 7 cents in value last week–the quietest week we have seen for months. Every sector rose except for mREITs which fell by 18 cents/share. REIT lodging issues shares rose by 26 cents/share. Virtually all other sectors rose by around 5-10 cents.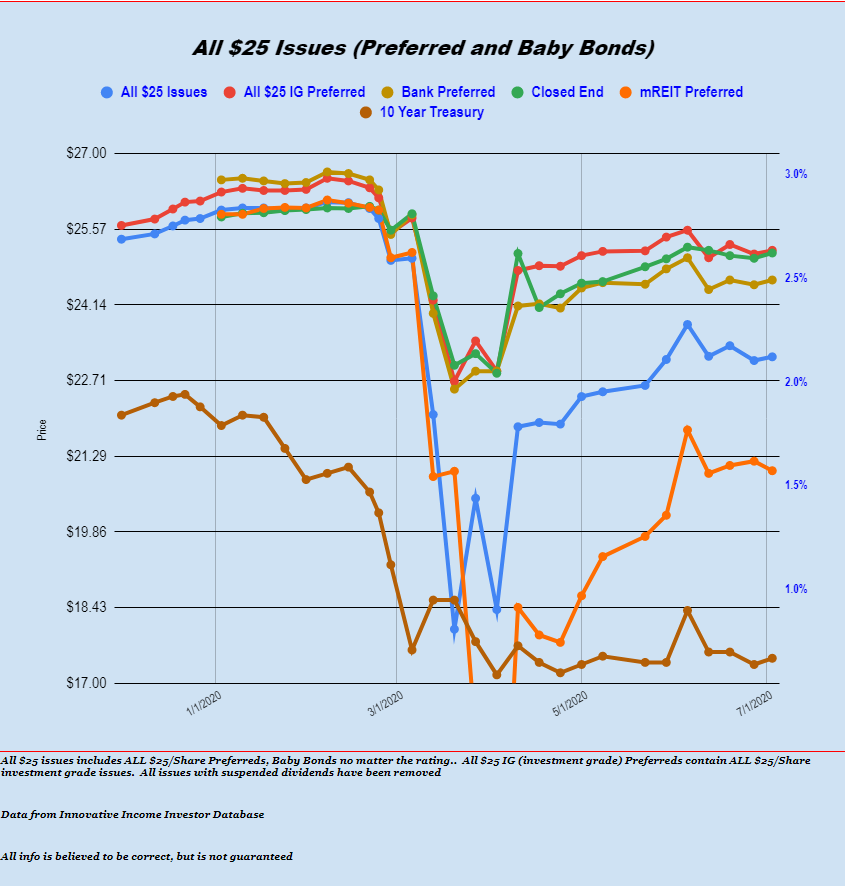 Once again the new issue market was very quiet as there were no new issues announced.
The new Saratoga Investment (SAR) 7.25% baby bonds began to trade under ticker SAK and closed the week at $24.93.