The S&P500 moved in a higher range of 2798 to 2932 last week and clsoed the week at 2930-right near the high for the week and up around 3.5% on the week.
The 10 year treasury moved in the normal range of .62% to a high of .71% before closing the week at .68%
The Fed Balance Sheet moved higher by only $65 billion last week to now stand at $6.72 trillion.
It appears that further rises in the average $25 preferred stock and baby bonds will be much slower as prices last week moved at a reduced pace–overall the average share ended last week 9 cents higher. The only sector with substantial movement was the mREIT sector which moved 74 cents/share higher. Investment grade moved 8 cents higher, utilities 1 cent higher–most other sectors moved 1-5 cents highers.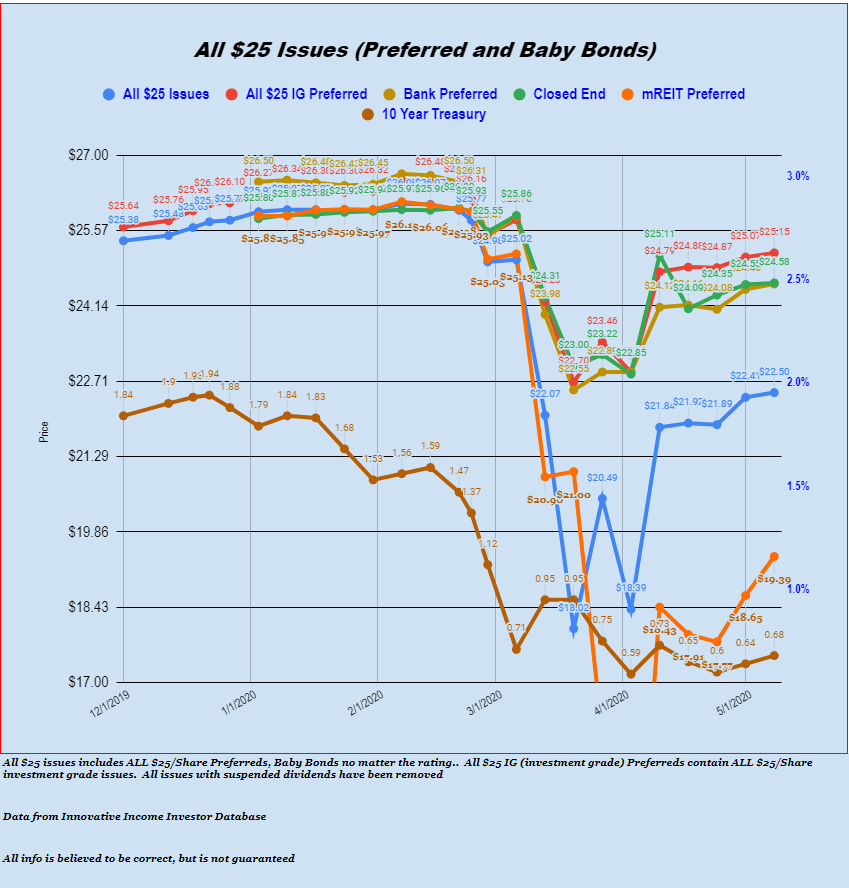 We had 2 new income issues floated last month–this after a long dry spell with no new issues sold. Of course company's are selling low coupon debt like never before, which they may come to regret–but that is another story.
Regional banker OceanFirst Financial (OCFC) has sold a new fixed-to-floating rate preferred. This one is trading under the permanent ticker now (ticker OCFCP) closed Friday at $25.13 after trading as low as $24.70
The coupon will be set at 7% until 5/14/2025 after which it float at a rate of 6.845% plus 3 month SOFR (secured overnight financing rate).
The issue will be a small one with 2.2 million shares sold, with another 330,000 available for over allotment.
The issue is unrated by the big 3 ratings agencies, but rated BBB-(medium) by Kroll.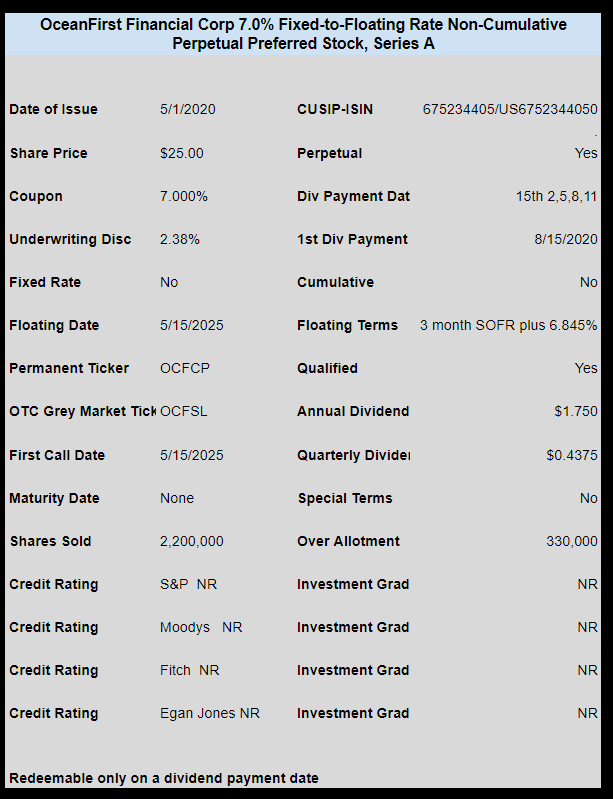 Community banker Wintrust Financial sold a fixed rate reset preferred last week.
The community banker will sold a fairly large issue of 10,000,000 shares (with 1.5 million for over allotment) of new preferred with an initial coupon of 6.875%.
The coupon will reset in about 5 years to a rate of the 5 year treasury, plus a spread of 6.507%. Thereafter, resetting at a new rate every 5 years.
Of course the issue will be non-cumulative. The issue will be rated BB by Fitch, a bit shy of investment grade, while Dun&Bradstreet has a rating of BBB.
The issue is still trading under the OTC Grey Market ticker (WTFNL) and closed last week at $25.06–it traded as low as $24.94.
We will start the week in equities lower as equity futures will trade around 1% lower this morning–where it goes after that only God knows.