Here we go!! Another week of excitement and fear and greed.
Last week the S&P500 fell off the tiniest of amounts as it opened the week at 2854 with a weekly low of 2852 and a weekly high of 2954–closing the week at 2831 which is a loss of 6 S&P points from the Friday before.
The 10 year treasury traded in a range of .58% to .66% closing the week at .64%.
The Fed Balance Sheet grew last week by $82 billion – a meager rise (on a relative basis). The Fed Balance Sheet now stands at $6.656 trillion – likely on the way to $8-$10 billion before the year is out and higher in subsequent years.
The average $25/share preferred stock and baby bond was up last week by about 2%–a healthy gain. Investment grade issues were up by 1%, while banks were up 1.5% and even Lodging REITs up almost 2%. For the time being bargains have become relatively more difficult to nail down.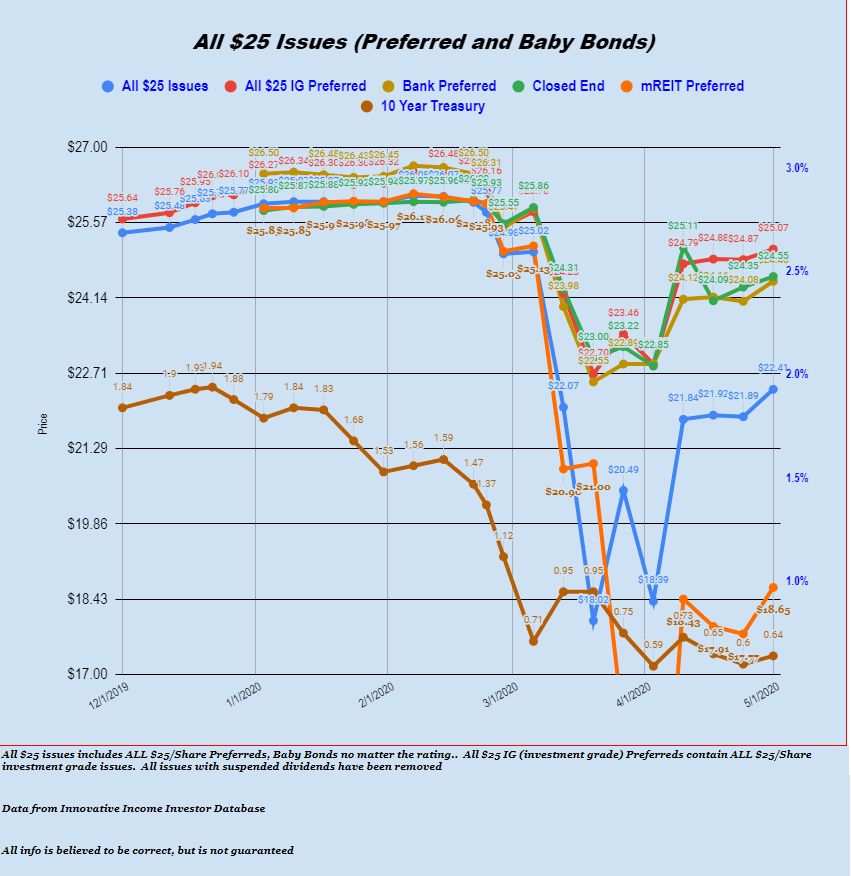 We enter the week with the equity futures off 1%. Last week equities were off a very minor amount and the previous week was off about 1.3%. I suspect we may be off another percent this week—a near perfect move lower–no panic. Off course the moves lower have not been helpful to preferreds and baby bonds as they have been much stronger than common shares.
We will have a number of employment numbers this week–given that terrible numbers are expected I don't see the confirmation of bad unemployment being meaningful to markets. The more important numbers will be in a couple months–how fast employment improves from the bottom which may be April employment. We'll see!