Moving in a range of 3662 to 3826 the S&P500 closed the week near the high at 3825—a gain of near 2% on the week from the previous weeks close of 3756.
The 10 year treasury yield traded in a range of .91% to 1.13% before closing the week around 1.11%–a giant sized gain on the week of .19% from the close the previous week of around .92%.
The Federal Reserve balance sheet fell by $29 billion last week. The previous week the balance sheet had fallen by $41 billion. While these 2 weeks show a fall of $70 billion we will likely see a sharp increase in the next 2 weeks as the stimulus money is distributed.
Last week we saw the most damage to the average $25/share preferred and baby bond that has been seen in around 3 months. The average share fell by 18 cents–not too bad on average. Investment grade issues fell by a large 53 cents, with banks falling by 36 cents. CEF preferreds fell by 4 cents while mREITs gained 3 cents.
Price action in the $25 preferreds and baby bonds was typical last week during a time of rising interest rates. On a short tern basis high quality, low coupon issues fall the most during times of rising rates. These losses will be recouped in a few months if rates stabilize–if rates continue to rise prices will fall most on the low coupon issues as investors demand higher current yields.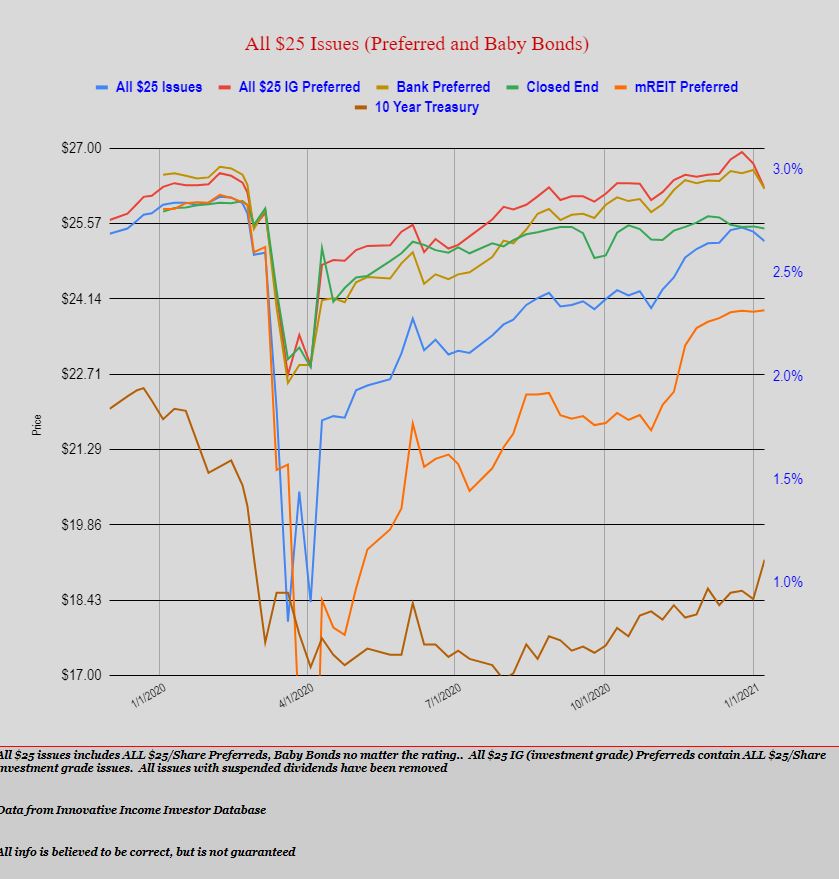 Last week we had just 1 new income issue priced as Equitable Holdings (EQH) announced pricing of a 4.30% non cumulative preferred. This issue is trading under OTC grey market ticker EQHIL and closed on Friday at $24.97. This issue is split investment grade (investment grade from Standard and Poors while a notch under investment grade from Moodys).