With hot inflation and the fear of ever higher interest rates the investment grade low coupon banking issues have been really pummeled–those with coupons in the 4.0% to 4.50% area. There is a fair chance that being 'perpetual' these issues may truly be outstanding forever.
Now personally I love these issues–just not at present prices. It seems reasonable to believe that even at what are now heavily discounted price levels they may have much further to fall.
Let's look at one of the issues that has taken one of the largest drubbings–the First Republic Bank 4.00% non cumulative preferred – FRC-M. This issue was sold in July, 2021 and while it traded around $25 for a short time in August it has not traded at that level since and has sunk to as low as $21.46/share lately–recently bouncing to $22.20.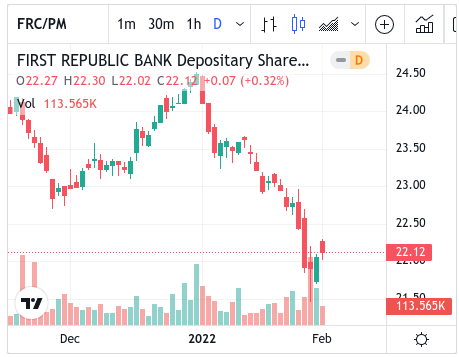 Now we can clearly see what has been known for a long time–when rates are moving higher–or there is an anticipation of rates moving higher the lower coupon issues (which of course are almost always high quality issues) will bear the brunt of the share price erosion.
The 'immediate income' investor may not care one whit if the share price erodes as long as him/her can feel safe in the receipt of a modest coupon payment. If this is the case this same investor should consider adding to their position –what was a good investment at $25 is quite the bargain at $22 or $21.
On the other hand one should deploy cash very carefully–what is $21 or $22 today may well be $18 before the year is out–in fact if interest rate forecasts hold true these issues will almost certainly be much lower a year from now. Only time will tell