All eyes are on the FOMC for the interest rate decision at 1 p.m.(central) and the consensus is a ¼% rate hike. More anticipated is the press conference with Jay Powell at 1:30 p.m.- what will he say about the future? On one hand Powell can't appear to be soft on inflation and on the other hand he can't turn dovish. We are likely to get major market moves regardless of what Powell says in the press conference.
Yesterday we had interest rates drop sharply after a large spike on Monday – the 10 year treasury closed Tuesday at 3.44% as the JOLTS report showed a decrease in job openings and layoffs are increasing – so a sign of a weakening economy. Today we have a few other economic releases including the always unreliable ADP jobs report for April.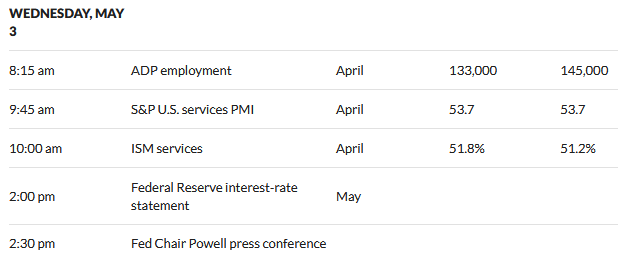 Most certainly I will sit on my hands today which is the typical day for me for many weeks (or has it been months).  We are not going to be able to buy any banking for quite a while–although for those willing to try to 'catch a falling knife' there are many issues of the smaller banks with current yield over 8%–stay with small positions and diversify across a basket.
Yesterday I was reviewing current offerings of CDs and there were issues available at 5.25%, but just like the terms of preferred stock and baby bonds banks can play around with the terms. Most of the current offers pay interest at maturity and the highest coupons are callable – I like monthly payers that are non callable, which pay a lower interest rate. We'll see what is available later this week after Fed actions–I may go ahead and lock down some more CDs since it is unlikely I will be buying preferreds or baby bonds for some time.
Well let's get the day going – it is going to be a wild afternoon.