Today we saw interest rates tumble apparently on concerns over a new covid variant.
The 10 year treasury closed the day at 1.48% which was a full 16 basis points below the Wednesday close. On the other hand it was just 5 basis points below the close last Friday.
Seems to me that the supposed react to the new covid variant was over the top–an over reaction. Honestly I think the equity tumble was simply because investors were looking for a reason to sell and the new covid variant gave them an excuse.
Preferreds and baby bonds took a bit of a whack this week with the average $25/share issue off just under 1% while the average investment grade fell by just over 1%. Certainly this caused some pain, but all in all it is something we can live with – do we have a choice?
Some preferred issues seem to be offering us a bit of a bargain with recent losses. 1 such issue is the Ready Capital (RC) 6.50% perpetual preferred (RC-E) which is now trading at $24.42–down from a recent high in the $25.60. RC has had stellar financials in the past year and now is at a current yield of 6.7%. Of course with potential for further rising rates we could see this one continue to tumble. Buys in this environment of perpetual issues are dicey and one should leg into positions (buy small positions multiple times).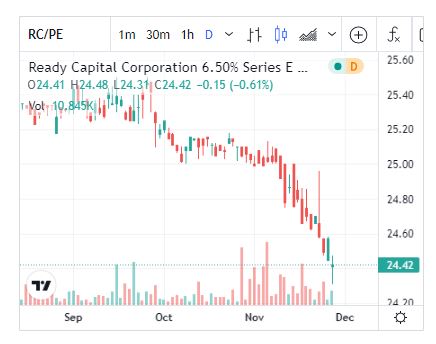 The Urstadt Biddle (UBP) 6.25% perpetual preferred (UBP-H) is down about 4% in the last 10 days or so. This is a decent quality issue and at $25.25 maybe there is opportunity–but again a 'leg in' is the only way to play it.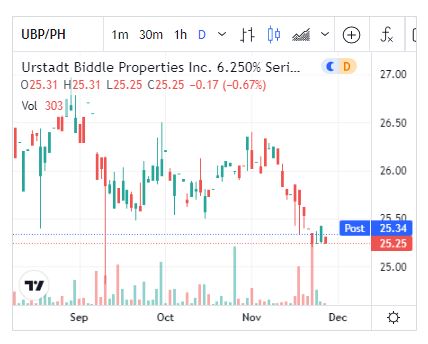 Lastly the Prospect Capital (PSEC) 5.35% perpetual (PSEC-A) has been one of the worst performers of all perpetual preferreds – closing today at $21.63. There is no fundamental reason for this to be occurring. Yes the company is selling 5.50% monthly paying preferreds in a continuous $1 billion offering in the private market, but this is not a sufficient reason for the 'A' issue to tumble so hard. These private market shares do have a conversion option, but again this is not sufficient reason to send these shares lower. A current yield of 6.11% for an issue just under investment grade (2 notches) is a juicy offering.
Note I hold shares in the PSEC-A issue and bought a few more today (Friday).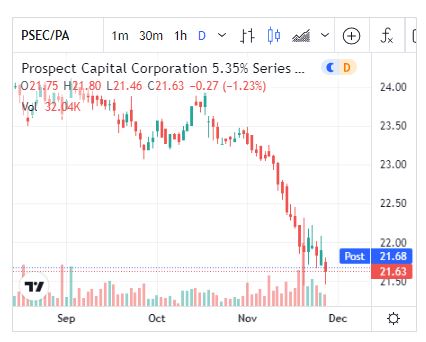 I am not recommending the above shares–as I expect them to move lower IF rates move higher. I am simply pointing out some issues that may 'work' for immediate income investors.