We all know that years ago the Cenex Harvest States (no ticker as it is a cooperative) CHSCP 8% cumulative perpetual preferred was issued with bunches of the farmers (owners) being issued shares, but now – 20 years after issuance (in 2003) the dynamics of the ownership may well have changed. We know for sure management of the company has changed since that time.
The issue is now trading at $29.10 and the extended redemption date is 7/18/2023 – just 2 months from now. The current yield is 6.88%–lower than 3 of the other 4 preferreds outstanding. How would a $4/share capital loss feel in 60 days?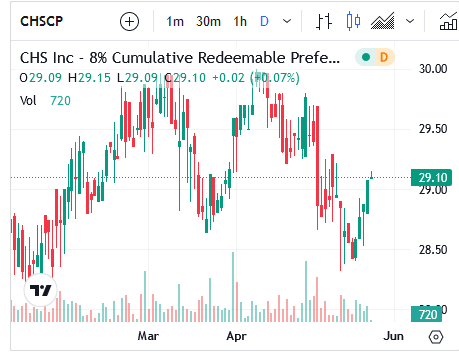 My question is 'are you feeling lucky'? Anyone holding this issue would be wise to sell it and redeploy into one of the other issues. We have no idea of the ownership of this issue NOW–but with new management why would one like to hold on?