So today we had a dovish producer price index which was on top of the softer consumer price index–of course this is excellent news for us all.
With the most recent data the hawkishness of the Fed is no doubt going to be softened this month–but does that mean no rate hike?
The FOMC is in a pickle. Two weeks ago I thought–and many people thought — 25 basis points was a cinch while 50 basis points was 'on the table'. Now any rate hikes at all will serve to worsen the banking situation–higher rates equal lower bond values. Of course the Fed now has backstopped much of the underwater bonds held by banks–but just the same the Fed will not want to exacerbate the situation. What to do? It will be extremely interesting to watch next Wednesday.
Today I bought more CDs–1 year maturity. Here is what I found at Fido right now for 1 year terms. I bought the American Express 5.35% which is call protected (as all those below are).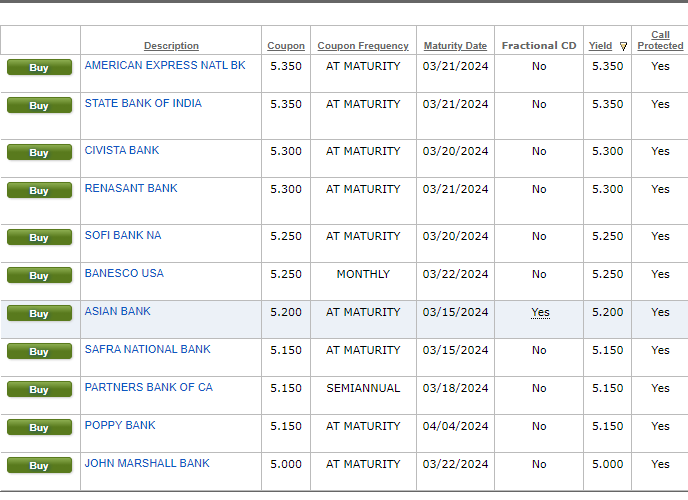 I took a look at the 2, 3 and 5 year maturity issues–but once you move out in maturity many (or most) are NOT call protected so for now I stuck to the 1 year. We will see where they go from here and what is offered–I have quite a few treasury notes maturing later this month so will be considering further CD's. I really need the markets to calm before I start heading back into the preferred issues–of course I won't catch the bottom in preferreds, but I never do since I am a lower risk investor.