This morning we had a number of economic releases–and once again they remain a mixed bag of good and bad.
1st time unemployment claims remain muted at 222,000 versus 226,000 (revised) last week. This number must INCREASE to have some certainly that we will have a reduced 50 basis point rate hike by the Fed–employment is a key number for them. Continuing claims continue to creep slightly higher week by week.
On the other hand the Philly Fed Manufacturing index cratered badly at a -19 versus a forecast of -6 and versus last month at -8.7.
Housing starts continue to weaken–although they are not 'plunging'–more of a slow drift lower. Single family starts are at the lowest since May, 2020.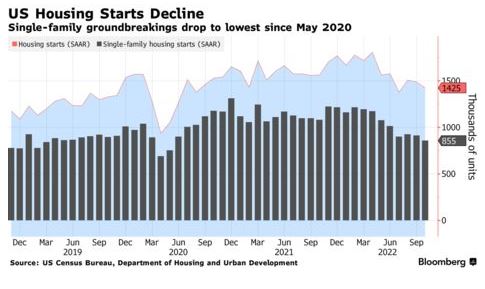 None of the seemingly modestly soft economic news is feeding into employment as of yet–but there is a likely lag there. Or with the 10.7 million jobs openings folks are just moving elsewhere quickly (honestly I doubt this).