Yesterday's euphoric rise in stocks and bonds is quickly fading away this monring. I really don't think that any of us thought 'the bottom is in' given that the economic data simply doesn't show the weakening economy that is being blabbered about constantly of late.
Today once again I am mostly just watching the markets–I say mostly because there are fair odds during the course of the day I may nibble a bit. Yesterday I had no intention of buying anything, but the Tri-Continental $2.50 (5.00%) preferred (TP-P) took a bit of a tumble so I nibbled shares with a 5.40% current yield. This $50/share issue has been outstanding since 1963 and has a call price of $55–yesterday it closed at around $46. I consider this unrated issue to be the safest CEF preferred in existence with a asset coverage ratio of 4400% as of 6/30/2022. They hold all Level 1 securities (exchange traded securities-common stocks etc).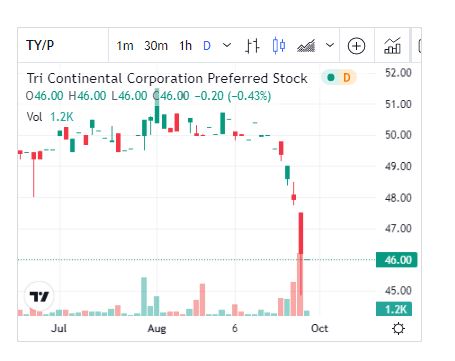 Just looking at the markets stocks are tumbling hard–off 2.3% while the 10 year treasury yield has risen 8 basis points after the giant 25-30 basis point tumble yesterday–a little stability here would be great to see, but after the strong jobs numbers this morning as well as some hotter inflation numbers I think rates are destined higher.