Nobody is really excited about the plethora of low coupon preferred's being issued lately, although I see a few folks are buying them–including me.
As I always have to do–I just can't help myself, I have bought a couple issues lately that I normally probably wouldn't buy–and I did it as a test–can I squeeze at least 1-1.5% flip profit out of the issues. Right now the answer is not totally known, but of the 2 I have bought 1 has been sold for about a 1.5% flip profit.
1st off I bought 300 shares of the Public Storage 3.875% (PSA-N) issue on 10/05/2020 for $24.82–the issue had traded as low as $24.70. I fully planned to sell these shares when I hit my target of 1.5%.

I then sold the issue on 10/19/20 for $25.16 which gave me my 1.5% profit (slightly less actually). That is a 'steak dinner' trade, so I am satisfied with my meager profit. I did notice the shares plunged down to $24.85 today for whatever reason.

On Monday of this week I began to buy shares in the new RiverNorth/DoubleLine Strategic Opportunity Fund 4.375% preferred. This is a high quality issue and I was too 'excited' to jump and buy. I started with a 300 share purchase on Monday for $25.10 and followed it up on Monday afternoon with another 100 shares at $24.96. Should have been more patient.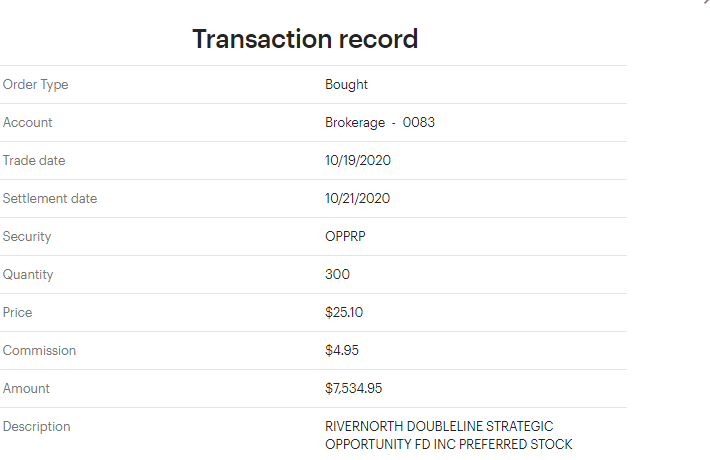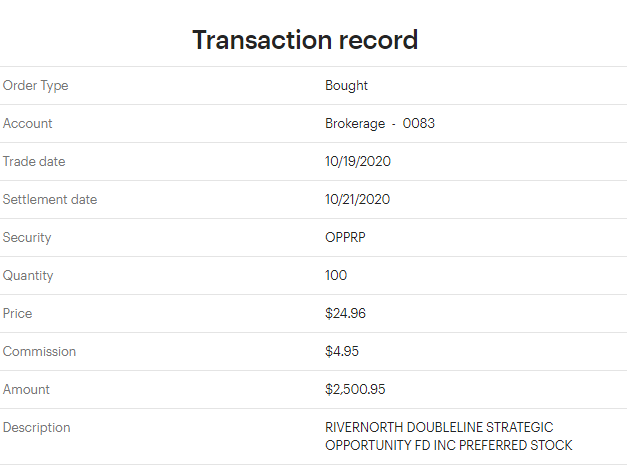 I now wait to see my next move–it closed at $24.95 today. If it falls from here I will buy a couple hundred more shares. The quality of this issue at a reasonable coupon (in my eyes anyway) means I would be willing to go to 600-1000 shares or maybe higher. I am confident I can squeeze out a 1% flip profit, but likely I want to hold some of this issue long term so I will determine later what I want to hold long term.
So assuming there is not an interest rate spike while I hold these issues it looks like it is probable one can get 1-1.5% quick flip
I am not recommending anyone fiddle around like this–I mean really a short term $100 profit is meaningless in the big picture and I would rather have holdings that are long term. This was a test and a boredom trade.
NOTE–I post the brokerage clips above to display the actual transaction–the top clips are from Fidelity and the bottom from eTrade (also note that eTrade charges $4.95 on the OTC trades.