Yesterday was fairly quiet all around – stocks and bonds – tight trading ranges and I love it. Preferred stock and baby bond pricing can/will move up penny by penny in a flat interest rate environment. The nervous nellies who bought high and sold low eventually make their way back into the market–slowly. Of course it is way too early to declare victory over inflation–so who knows if this is a flattish interest rate environment–2-3 days is not a 'trend'.
I took the opportunity, on a quiet day, to add to my very small position in the new Lincoln National Corp (LNC) 9% non-cumulative preferred at $26.50. My commitment remains small to this one, but am likely to add again soon.
I'm looking to do more nibbling–nibbling which over the course of months turns small positions into full positions–but like the Fed I am 'data dependent' and want to see inflation data for November before making any large commitments to buying.. I do have some 3 month t-bills maturing in December so will need to make the decision as to what do do with that cash.
Today we have no economic news of real interest so the quiet day may persist all day long—but tomorrow we could see some movement—even being Thanksgiving Eve. Below is the economic calendar for Wednesday–lots of data–none which is probably (who knows) highly market moving, but the FOMC meeting minutes in the afternoon could provide additional 'color' relative to the Fed rate hike in December (i.e. 50 versus 75 basis points).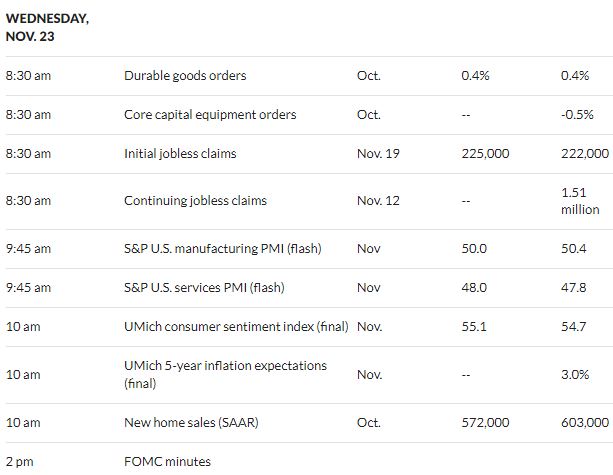 Source:Marketwatch