After Monday of this week the investment gains have been pretty stellar for everyone–whether you were in preferred stocks, bonds or obviously common stocks. Seems common shares should be peaking out (or not moving higher) all things considered, but there remains massive amount of money available to 'buy the dip'.
The 10 year treasury is trading at 2.148% right at this moment which is down about 10 basis points from the high of the week. This rate has numerous Fed rate hikes built into it already so I am not looking for much higher rates for now–maybe later. Also if the Fed were to start quantitative tightening by selling securities to reduce the size of the balance sheet we could see somewhat higher rates.
My accounts were up maybe 3/4% this week as we got some bounce back in oversold issues. I added 3 investment grade issues–2 new and an addition to my Brighthouse Financial 6.75% perpetual preferred (BHFAO)–the move in this issue was typical of what we saw in many issues this week. Didn't sell even 1 share.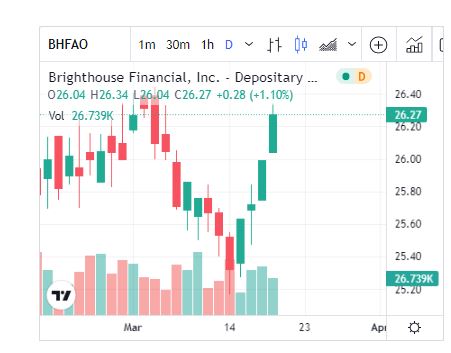 The other issues I bought were American International Group 5.85% (AIG-A) perpetual and Assurant 5.25% notes (AIZN). Actually would have bought a little more but I have been hammered at my 'real job' so just couldn't get around to finalizing more buys. Oh well there will be plenty of time to find decent buys in the weeks and months ahead—besides it is always my plan to 'leg in' to positions.