It is time to do a case study on some preferred stocks.
It is not often that we have an issuer sell not only 'term preferreds' but 'perpetual preferreds' as well. This situation lends itself to a study of how the price of a 'perpetual' acts versus pricing on a 'term' preferred when interest rates rise or fall. Necessarily this 'study' may last a few years–depends on how fast we see rising or falling interest rates.
This study will be of the new issue Priority Income Fund 7.00% perpetual preferred (PRIF-K) VERSUS the relatively new Priority Income Fund 6.00% term preferred (PRIF-J).
The study will hone in on the 'total return' of each of the securities. I will look at this TR every few months and update the findings.
The J issue was issued on 8/6. Currently trading around $25.10 with a 6.00% coupon.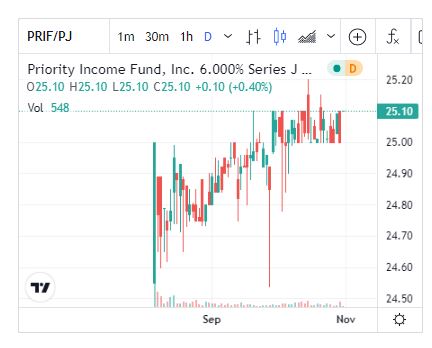 The K issue which is perpetual and is now trading at $24.85 with a 7.00% coupon.
We all know that, as a general rule, a security price moves lower when interest rates rise–while the security price rises when interest rates fall.
Short dated maturity securities tend to move less violently relative to a perpetual preferred as interest rates rise. The 6.00% J issue has a redemption date in 2028. Of course the 7.00% J issue has NO mandatory redemption date.
Now if you as an investor have no concern whatsoever on price movement – you only care about an income stream–immediate income–this study means nothing to you. Likely you want the 7% issue which will pay you an additional 25 cents/share annually.
If you believe that interest rates are moving sharply higher and are sensitive to capital preservation maybe it is better to own the term preferred at a modestly lower income stream in return for less price movement.
Each investor has their own goals–their income needs. There is no right or wrong answer in what one buys (relative to the above situation)–only the best answer for yourself.